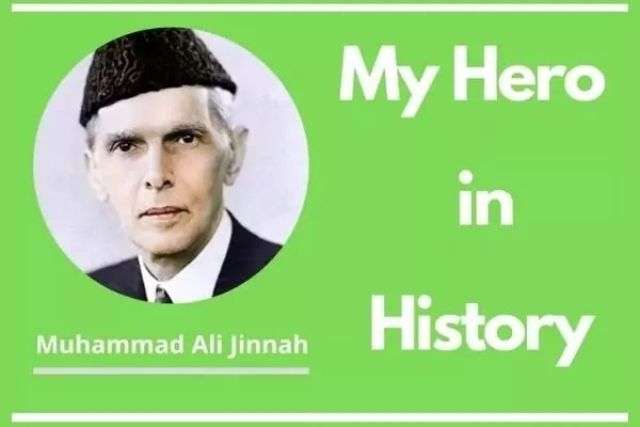 My Hero in History | Muhammad Ali Jinnah
Our history is full of great men. It is natural for men to love their heroes.  History is what great men make it. It is their biography. The great men are the men of outstanding characteristics showing excellent character. They have the power to change the course of life and bring their nation to the highest glory. They are liked and loved by the people.
Hail, ye heroes! The heaven-born band! Who fought and bled for freedom's cause.
A hero is a man of unparalleled vigor, matchless genius, and unique talent. He has the charismatic qualities of an inspiring leader to lead the nation to its destination in spite of the obstacles he faces on the path to success. Mr.Jinnah's great struggle spans over forty years He started work as Jinnah and finally developed into the Quaid.
Quaid's struggle can be divided into four distinct but interlinked dimensions.
Uniting and leading an oppressed nation
Negotiating with the British
Countering the political tricks of Hindus
Leading a newborn state
Firstly, the Muslims of the sub-continent, who had been its previous rulers, became a rudderless boat. They were disunited, aimless, and had no leader of high caliber. Muhammad Ali Jinnah showed the right political path. It was his love, sincerity, and truthfulness that he became a great leader of Muslims.
There were many factions of Muslims with different political goals. Nevertheless, the larger factions of his community rallied behind him and developed into a single political force led by one man Mr. Jinnah.
  So powerful is the light of unity that it can illuminate the whole earth.
Secondly, Quaid-e-Azam held talks with the British brilliantly. He held dialogues with Cabinet Mission, Mr. Stafford Cripps, Lord Wavell, and Lord Mountbatten on different occasions to discuss the political future of India. However, he made clear to all of them that could not trap him. He knew their evil designs and replied on the table of talks brilliantly. Mr.Jinnah proved his stance and won the case of Pakistan.
A hugely complicated, centrally planned, social, and economic system can only be kept on the rails for as long as people believe in it.
Thirdly, Mr. Jinnah countered the political tricks of Hindus, especially Mr.Ghandi.Congress tried its best to keep India united and the Muslims under its rule. Our hero knew the Hindus' tricks in the Khilafat Campaign, the Nehru Report, and their talks with the Muslims.
He knew that Gandhi didn't have any sympathy with the Khilafat but he has his own axe to grind. Therefore Jinnah remained aloof from it and the time proved his decision right. He scored a tactical victory over Mr.Ghandi during Gandhi Jinnah talks when he established himself as the sole leader of the Muslim community.
We have undoubtedly achieved Pakistan, and that too without bloody war, practically peacefully, by moral and intellectual force and with the power of the pen, which is no less mighty than the sword, and our righteous cause is triumphed.
Finally, the survival of Pakistan was a greater challenge than its formation. Our national hero proved himself great in managing the task there also. Pakistan had no army to defend and establish to run the government. He was a big question mark on the survival of the country. However, he did not get panic. He gave political and constitutional guidelines for Pakistan.
To conclude, heroes never die because their powerful remembrance remains alive in our hearts. They become stronger after their death. Mr.Jinnah is also such a hero in history whose struggle was for a nation.
His objective was clear and his strategy was perfect. His battlefield was politics and his weapon was law. He fought against the British, Hindus, and his ill health. He is undoubtedly the great hero of our nation.