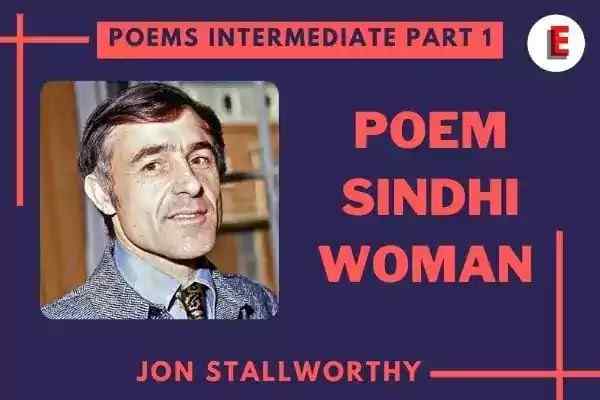 Sindhi Woman | Poem
About Author | Jon Stallworthy
Jon Stallworthy(1935-2014) was born in London. He was an editor, Literary critic, and poet. He got his education at Dragon School, Rugby School, and Oxford School. He won Newdigate Poetry Prize while playing rugby at the University.
He was a fellow of The British Academy, and The Royal Society of Literature. His collection of poems are mostly in the traditional forms of examination of war. His several volumes of poetry including Rounding the Horn, Collected Poems, Body Language, and Survivor's song were published.
Main Idea or Theme
The poem is about the importance of work. Work brings us to respect and reward. It keeps us strong and stout. The woman carrying a heavy jar on her head is a lesson to all mankind.
Her steadfastness leaves a message for us that we should not lose heart in the face of worldly burdens and responsibilities. We should rather handle all these manfully. We should be ever ready to keep up our morale in hardship. The poet pays rich tribute to hard work.
It is the work that keeps man rhythmic and vigorous. The poet is impressed by the determination and energy of the Sindhi woman. He praises her for her strong will and conveys the message to the reader that only those are successful who never submit or yield against heavy odds.
Explanation of Poem
Stanza 1
Barefoot, through the bazaar,
And with the same undulant grace
As the cloth blown back from her face,
She glides with a stone jar
High on her head
And not ripple in her tread
Reference
These lines have been taken from Sindhi Woman written by Jon Stallworthy.
Context
The poem Sindhi Woman by Jon Stallworthy is about the significance of work. Work brings us respect and reward. It keeps us physically and mentally healthy. Work may be nominal or special but it maintains the dignity of man.
Work gives determination and strength to the workers. It imparts positivity and productivity. We strive to achieve a great status by the work only. The poet also highlights that this life is full of hardships and there are many obstacles on the path to success.
We as human beings are created to work and active in life in spite of the difficult conditions and back cracked responsibilities. The woman carrying a heavy jar on her head is a lesson to all mankind.
Her consistency leaves a message for us that we should never lose heart in the face of worldly burdens and responsibilities. We should be ever ready to keep up our morale in hardships.
Explanation
These lines present the portrait of a Sindhi Woman passing through a bazaar in a beautiful manner. She is bare-footed and carries a stone jar on her head. The wind removes the cloth from her face but she looks regal in her stance.
She carries a heavy load, yet we find rhythm and resolution in her walk. The poet praises hard work. He pays tribute to Sindhi women who are energetic and determined. It is the blessing of work that keeps a man going. He presents that the gait of a woman is elegant and smooth.
Nothing disturbs her peaceful walk. Perhaps her daily labor has made her strong enough to be comfortable with this arduous work. Her work has proved a blessing in disguise. The words Undulant grace and not a ripple in her tread indicate her graceful woman.
Stanza 2
Watching her cross erect
Stones, garbage, excrement, and crumbs
of glass in the Karachi slums,
I with my stoop, reflect:
They stand most straight
Who learn to walk beneath a weight
Reference
Same as above
Context
Same as above
Explanation
The poet observes a Sindhi Woman walking on stones, garbage, and pieces of broken glass. She is determined to reach her destination despite the hurdles before her. She is so poor that she cannot buy new shoes but still rich in mettle.
The slums of Karachi present a very miserable picture. A big city has no proper system of sanitation and public health. The poet becomes sad to experience all this and visualizes that he has grown old and cannot walk straight.
His drooping tread makes him think even more. He gives us the message that only those people who can bear the difficulties of life bravely become successful. He sums up that those who carry the burden of life without any murmur are really respectable strong and sturdy.
Short Questions and Answers | Sindhi Woman
Q 1: What does the poet reflect when he sees the woman?
Ans: When the poet sees the woman, he thinks that those who carry the burden of life with a smile on their face, are strong and stout. Those who are true to their duties deserve all praise.
Q 2: What is the main idea of the poem?
Ans: The poem, in fact, is a tribute to struggle. The poet advises us that we should rely on our own inherent strength instead of expecting help from others. In short, the poem gives us a moral lesson of self-reliance.
Q 3: What kind of picture of the Karachi slums do you get after reading the poem?
Ans: The Karachi slums give a very shabby and dismal picture on the whole. We feel for the poor who dwell in these slums yet are hardworking.
Q 4: How has the poet depicted the personality of a Sindhi woman?
Ans: A Sindhi woman is barefooted. She walks majestically through the bazaar. We find rhythm in her walk which can be noted in her moving body and waving dress. She is carrying a jar on her head and is presented here as a symbol of hard work.