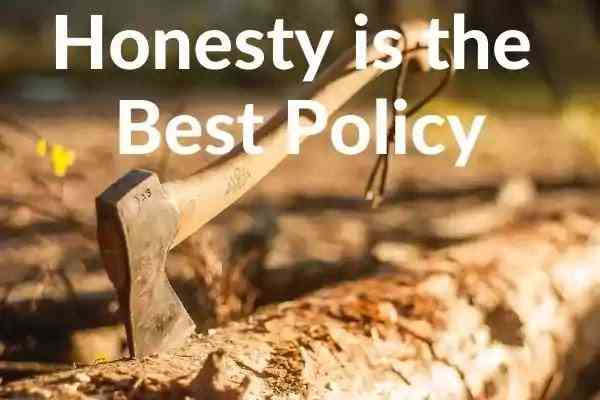 Honesty is the Best Policy
A moral is basically the theme of a story usually based on the folklore which had passed from generation to generation. It presents some moral or lesson so that children all over the globe would learn from them. Children, as well as the elders, entertain them by reading such interesting stories.
Honesty is the first chapter in the book of wisdom
The story of Honesty is the best policy is also such a marvelous story that presents a beautiful lesson of honesty. How a man can earn a good name in his work by doing honest work. Such honest living makes him satisfied and peace of mind. 
There lived a poor woodcutter in a certain village who used to earn his livelihood by cutting wood. He lived a contented and simple life. He went to the forest early in the morning, cut wood, and sold it in the market.
One day, he was busy cutting the wood from a tree on the bank of the river. All of sudden, his axe slipped from his hands and fell into the river. He became gloomy and got upset. He cried and wept a lot. 
No legacy is so rich as honesty
By chance, the good Mercy was passing by him who asked him the cause of his sorrow. The woodcutter told the whole story to the god. The god at once plunged into the river and came out with a bright axe of gold.
Though the woodcutter was poor, he was honest. He replied that that was not his axe. The god dived again for the second time. This time, he came out with a silver axe. He asked if the axe belonged to him. 
The woodcutter again shook his head in negative. At last, the god river jumped into the river for the last time and came out with an iron axe. The woodcutter was delighted to his axe. He accepted it thankfully. 
The god was greatly impressed by the honesty of the poor woodcutter. He gave the other two costly axes also as a reward. It gives a very good lesson that honesty brings happiness, respect, and reward for an honest man.
All is well, that's ends well
We should have a strong faith in universal truths. We can come out clearly from troubles if we follow them in our life. The stated story also teaches us to shun many unpleasant and bad situations.
Honesty is  more than not lying, it is truth-telling, truth-speaking, truth-living, and truth-loving
Moral
1- Honesty is the best policy.
2- Virtue never goes unrewarded.
3- Honesty never goes unrewarded.