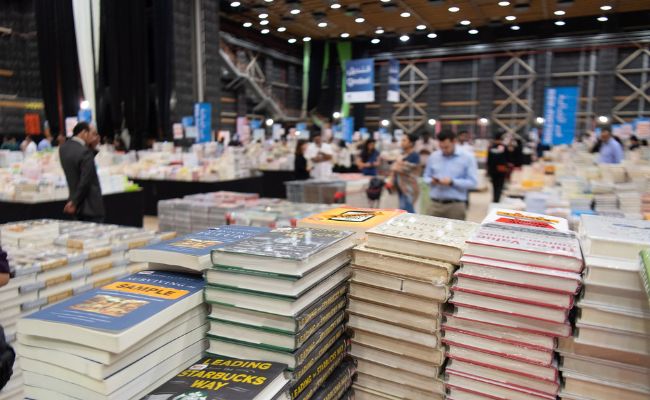 If you intend to know about a book fair. Here is something for you that can add value to your knowledge about book fair. Well! Fairs are a center of attraction and a source of entertainment for various people. It provides a great deal of knowledge and there is mutual interaction among people.
The word fair is coined from the word faire or fayre which means a gathering of a crowd of people for entertainment and commercial activities. The fairs are temporary and time scheduled for some days. The fairs trace books to ancient biblical times and were places for merchants to buy and sell goods. Now see! What is a book fair? Here is its answer.
In our life, we have attended multiple fairs relating to different things like art exhibitions, technology fairs, healthcare fairs, business-to-business fairs, and most importantly book fairs. Book fairs are the same event where we find books on science, technology, biography, and literature in one place. Book fairs means a display of books by publishers and booksellers to promote their sales and stimulate people's interest. It is a way to get a collection of books at affordable prices. Book fairs are interesting as we get some extra activities there like autograph signing sessions and other activities for students.
Let's see how book fairs are pivotal in our lives.
Wherever I am, if I've a book with me, I have a place I can go and be happy
To gain pleasure, people go to a book fair and buy books. This gives them tremendous happiness. Publishers and authors also attend book fairs to promote their new titles. so you can expect to have some great conversations about your favourite book writers' reads.
Book lovers attend these events to find new and interesting books to read as well as get a chance to meet up with the authors of the books. Attending a book fair is a great way to discover new books. You can also find good deals on books that you may not be able to find anywhere else.
Book fairs are also a great way to meet other book lovers and discuss your favourite reads. When attending a book fair, you can expect to find a large number of books on a variety of topics. This is the best way to converse with others and has discussions about books.
All and sundry want to become a part of such activities and select books of their own choice. Even the kids take interest in the selection of coloring books, and story books. The kids' s books have beautiful titles and the given images and pictures are colorful and fascinating for them.
All the students somehow have a special attraction for books because they help them in their studies and make them competitive and critical-minded. Books are life-changing and change the way to think and have a progressive and productive approach to life. Here are some tips for them.
Some tips for students attending a book fair include:
Being prepared to spend a few hours at the event.
Bringing a bag to carry your new books home
Being open to discovering new authors and genres.
You may also want to bring a list of books that you are interested in to make sure you don't miss out on any great deals.
The pros of the book fairs
One of the great advantages of book fairs is that they offer a convenient way to purchase a large number of books on a variety of topics in one place.
Book lovers can also take advantage of these events to find new and interesting reads, as well as meet other like-minded individuals and discuss their favourite books. 
Book fairs typically offer good deals on books, so it is worth being prepared to spend a few hours browsing the selection.
Finally, book fairs are also a great way to support local authors and publishers.
Book fairs can be busy, so it is important to come prepared with a list of books you are interested in and a bag to carry home.
Book fairs offer an excellent opportunity to discover new authors and genres, so be open to exploring something outside of your usual reading taste.
Book fairs are a great way to support local authors and publishers, so be sure to check out their stalls.
Now in this digital era and everyday changing world where people have less time to go to attend a physically arranged book fair. Online bookfair is possible. The purpose of the ebook fair is to combine the convenience of online commerce with people of in-person book fairs where you can browse the inventory of many book exhibitors.
The virtual book fairs enable you to speak with the exhibitors in real-time through social media platforms like zoom and google meet. Ebook fair gives the opportunity to buy the acquired and catalogued books from the most popular authors in the business. A virtual book fair opens for 24 hours. There you can find books in all categories at your home.
You can also attend international book fairs both by visiting that place and virtually. Many international book fairs are held annually as The Frankfurt book fair, Sharjah international book fair, Havana international book fair, The New Delhi world book fair, and Lahore international book fair, The Bologna children's book fair, The London book fair, Nigeria international book fair, and 51stnational book fair &21st Bangkok international book fair 2023.
Book fairs for authors are as important as for book lovers. They publicize their books to consumers. They use marketing material, such as brochures, flyers, and roll-up banners so the readers purchase their books and enjoy reading.
Now have a look at the importance of book reading
Books are important because they give us information that we might not be able to get anywhere else. They also teach us about different cultures and help us to understand different points of view. Books can also be a great source of entertainment, and they can help us to relax and escape from the stresses of everyday life.
By book reading, we can improve our understanding of the world and the people in it. It can also help improve our memory and concentration. In addition, book reading is a great way to learn new things and expand our knowledge. Finally, it can also be a great source of entertainment.
A reader lives a thousand lives before he dies
Other benefits of reading include increased knowledge, an improved vocabulary, and a better understanding of different cultures. Reading can also help to improve our creativity and problem-solving skills. Finally, reading is a great way to relax and escape from the stresses of everyday life.
Final thoughts
By organizing a book fair, the authors can showcase their newly published books and the old ones as well. Here we find different genres such as poetry, drama, novel, philosophy, spirituality, and obviously about earning both physically and online, etc.
A book fair is trendy that is conducted every year. It's a place where book lovers especially students, teachers, philosophers, and other educated people find books according to their own choice.