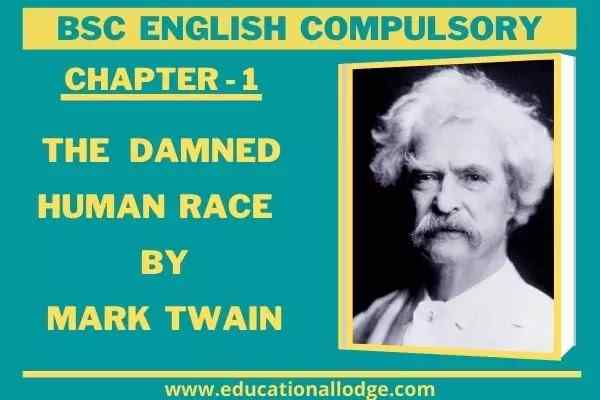 The Damned Human Race by Mark Twain
Summary
Mark Twain is a famous American essayist and short story writer. He has studied the traits of animals and human beings in a sensitive way. He has also described the darker side of human nature and seemed to lose faith in man.
He has analyzed the behavior and nature of animals and birds in the London Zoological Garden. He concludes that the animals are far superior to men. Mark Twain concludes that man Is not the best of all creations.
He is rather the lowest from animals. Man falls much short of expectations and behaves worse than animals. The cruel nature of man makes him the lowest of creatures.
He exposes the violent and warlike nature which indulges him in killing every living creature. Mark Twain condemns man for his cruelty, callousness, and revengefulness.
Mark Twain also views that man is greedy. His lusty attitude toward money makes him selfish. Man may cheat, rob, and exploit to accumulate as much money as possible and may still have an insatiable hunger.
Animals and reptiles are satisfied with very little. They stop when they have gathered a winter supply. Man is revengeful by nature. Indecency, vulgarity, and obscenity are evils invented by man and confined to him.
He hides his true self and covers himself. Man fights wars in order to take revenge and annihilate the human race. As a mercenary, he kills strangers whom he has never met. Bloodshed is in the nature of man.
Mark Twain exposes the man's sense of patriotism with great design. He says that man keeps an army of soldiers to fight with others and snatch their piece of land. Mark Twain hates man for his hypocritical campaign for survival fraternity.
He looks at man as an animal from a variety of definitions of the word. Man loves religion but is notorious for religious intolerance. Man is called the crown of all creations but actually, he is not.
The history of mankind is replete with horrible examples of religious atrocities in the time of Caesar's inquisition, the French revolution, and the bloody Mary. Mark Twain refuses to accept man as an intelligent or rational animals.
He suffers from moral weakness and does wrong due to this defect. Man is not a reasoning animal, rather is an unreasoning animal. It is evident from his fantastic record of maniac, even his intelligence is questionable.
Moreover, man can not claim the true loftiness of character. Actually, it is the moral sense, plainly a defect, in man that degrades him and impels him to do wrong. Animals have no more sense. Man justifies his misdeeds in many ways under the guise.
In this essay, Mark twain has discussed one side of human nature. He has criticized the man only for his evil nature. Man is an embodiment of good and bad qualities.HIs study of man is based on an actual record of evil deeds, though he is also endowed with angelic qualities.
Question No 1: Why has Mark Twain criticized human beings in the essay "The Damned Human Race"?
In this lesson, Mark Twain has pointed out some traits of man which make him lower than animals. The history of man indicates that he is very cruel, while animals and reptiles are not cruel like him.
Man accumulates wealth by unfair means. The animals do not store extra food. Some birds, bees, and squirrels collect the food for the winter season but they do not store extra food. Man is not satisfied with little money and food.
He goes on to collect wealth. In this way, man shows himself lower than animals.
Man is a sexual beast. He keeps more than one wife by force, without asking or agreement of his first wife.
The domestic cock keeps harem, but with the agreement of his hen mistress. So in the domain of sex, man is worse than the rooster who has more than one wife for the satisfaction of his sexual urge.
Man is a religious animal. He loves his own religion. He is seen cutting the throat of any other man, who does believe in his religion. Man deliberately breaks the moral laws and violates the moral and ethic values.
Mark Twain has proved and justified his point of view that man is by nature vindictive. No other animal thinks over revengeful thoughts, but it is a man who takes revenge whenever he gets a chance.
He murders his fellow beings, cuts their throats, wage war against them, enslaves them and deprives them of their property and prosperity. Moreover, man is guilty of plotting while the animals are innocent in this regard.
Mark Twain describes that man is cruel by nature. He gives an example of a British Earl. He comes to know that once an Earl killed 72 buffaloes to eat only one of them. He left the unnecessarily slaughtered 71 buffaloes to rot.
This was a cruel act of Earl. Mark Twain got seven calves and put them into an Anaconda's cage. The hungry Anaconda ate up only one calf and did not tear away the other six calves. This gives the idea that man is cruel but the animals are not.
Question NO 2: This essay was written in early 1900. Is it true today?
Mark Twain has written this essay in the early 1900s. He is not happy with the achievements and history of man. In his view, man is greedy, cruel, and selfish. Although his study of human nature is quite pessimistic, yet there is a lot of truth in his observation.
When we see that the evil nature of man has not changed him in spite of his best efforts, he becomes cruel and selfish. No doubt, people have improved themselves in the field of science and technology but as far as morality is concerned, they have not improved themselves.
In advanced Western countries, we have lost true democracy and social justice. We may often listen that people try to act on their principles in every field of life. They may be selfish, greedy, and cruel but in poor and developing countries like ours, we find many of the social evils which the writer speaks of.
The essay does not have so much effect on the writer's own society as it is of ours. We are facing the same problems in our own country. For example, the people of Kashmir are fighting a battle for their liberation.
There has been going on a massive loss of life and property in Kashmir and Kashmiris. Indian army is killing them for materialistic gain. The war of liberation in Afghanistan, Bosnia, and Chechnya is continued to rage for years.
In our day-to-day life, we observe many incidents of corruption. The people are fighting within their own homeland for materialistic pursuits. In short, we can say that essay was written in the early 1900s but it could be applied to the present human race.
At present time people seem greedier, selfish cruel, and savage as compared to the past. Mark Twain's study of human nature is quite excellent. He wants to teach people that they should reform themselves. They should live with harmony and understanding.
Question No 3: How does the writer reject Darwin's theory of the Ascent of Man from the lower animals?
Mark Twain is one of the most well-known writers in the U.S.A He is famous for his humorous and satirical writings. In this essay, The Damned Human Race he compares human qualities with those of animals.
Mark Twain believes in famous Darwin's theory of the Ascent of Man and asserts that it is actually the Descent of Man. He is said to have conducted his experiments on animals at London zoological gardens, London.
Darwin was a famous intellectual scientist in the 19th century. Darwin had almost all types of insects, reptiles, birds, and animals in his laboratory. After years of investigation, he concluded that man is the crown of creation and the best form of animal.
According to Darwin's theory of evolution of man, a man had origin in ordinary animals. He had ascended to be the most desirable shape of man, gifted with natural, mental, and spiritual values, which were denied to the other animals.
The process took my years, to evolve into an intelligent human being, with sharp mental and spiritual capabilities in all aspects. Mark Twain does not agree with Darwin's theory. To him, man has happened to be the cruelest species on the earth rather than anyone else.
He exposes all the negative aspects of human beings. He says that now in this century the theory of Darwin should be named, Descent of Man from the higher animals. Mark Twain has actually attacked the nature and disposition of man.
The concept of Mark Twain is not new, as has been ever explicated by the messenger of God. However, Mark Twain has presented a unique and novel way to calculate the weaknesses of the human race.
It is evident that Mark Twain has ironically composed his writings, to criticize man's nature and its fickleness to follow certain laws and principles. It is the nature of man which has degraded man to a level lower than even animals.