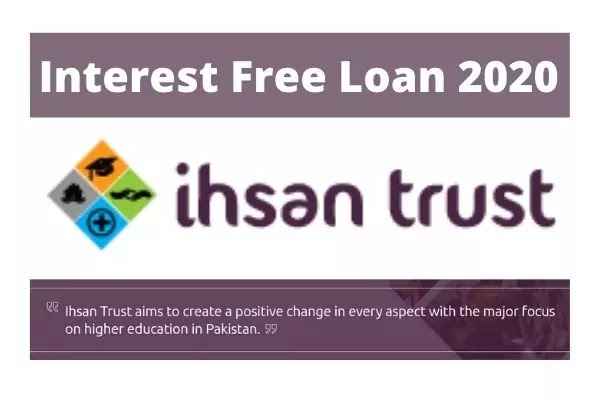 Ihsan Trust Qarz-e-Hasna By Meezan Bank
Ihsan Trust/Meezan Bank is offering Qarz-e-Hasna to students registered in higher education institutions. This is an interest-free education loan provided to the students of partner universities who cannot afford the expense of higher education. Below is given the list of universities.
Ihsan Trust is for students of higher education. Its interest-free loans are based on "Need cum Merit". This Interest-free loan facility is a unique model that enables higher education in Pakistan which not only provides assistance to a student to complete his/her education at a university of his/her choice but also initiated a rollover fund that continuously helps more and more students every year all over  Pakistan.
This Ihsan Trust Qarz-e- Hasna scheme is being given to all first-rate universities all over Pakistan. So far, this loan facility has been provided to more than 130 universities and professional bodies in Pakistan and the number of universities is increasing rapidly every year
Selection procedure | Ihsan trust Qarz-e-Hasna
Students can apply to the respective university
The lists of applicants will be reviewed from our education partners, Ihsan Trust arranges interviews to verify the need of each student.
If the need is real and merit is up to the standard, Ihsan Trust will approve the case and deposit the cash to the university account.
Ihsan Trust deposits the sanctioned loans directly to the university account.
Repayment starts with the mutually approved token amount from the following month in which the study starts.
Ihsan Trust Interest-Free Education loan | Repayment Method
During the study tenure, the student has to repay the nominal amount mutually agreed
The repayment money will rely on the student's financial condition and his/her parents' monthly income.
Monthly token repayment of the amount from the student starts from the very next month after the conducting trustee accepts students for the Interest-free loan facility.
The repayment amount will be adjusted according to the income of the student, after the completion of his/her education.
Ihsan Trust Qarz-e-Hasna Scheme | Associated Universities
IBA, Karachi
KSBL, Karachi
Dow University of Health Sciences Karachi
Sir Syed University of Engineering & Technology Karachi
Aga Khan University Karachi
COMMECS Institute of Business & Emerging Sciences Karachi
PAF KIET Karachi
IBM Karachi
National University of Computer & Emerging Sciences (FAST NU)
SZABIST Karachi
Mohammad Ali Jinnah University
University of Karachi (UoK)
AMAN Institute for Vocational Training (AMANTECH), Karachi
Jinnah University for Women, Karachi
DHA Suffa University, Karachi
Sheikh Zayed Islamic Centre
UMDC-United Medical & Dental College
Islamic Mission Hospital Trust School of Nursing
Baqai Institute of Diabetology and Endocrinology
ACCA Pakistan (Through KCCI-Karachi Chamber of Commerce & Industry)
NED University Karachi
Hamdard University
IM-Sciences Peshawar
City University Peshawar
Riphah University Islamabad
The Institute of Legal Studies (TILS) Islamabad, Lahore, Multan
Ghulam Ishaq Khan Institute (GIKI) Topi, Swabi KPK
IBA Sukkur
COMSATS Lahore, Abbottabad, Islamabad
Shifa Tameer-e-Millat University Islamabad
International Islamic University Islamabad
Technical Training Center (TTC) PCESSDC Daharki Sind
CIMA Pakistan
LUMS Lahore
NUST Islamabad
University of Haripur
National Textile University Faisalabad
University of Agriculture Faisalabad
Fatima Jinnah Women University Rawalpindi
University of Gujrat
UET Taxila
CECOS University, Peshawar
University of Agriculture, Faisalabad
Mehran University of Engineering and Technology, Jamshoro
Khyber Medical University, KPK
HITEC University, Taxila
Islamia College University, Peshawar
IM Studies, University of Peshawar
University of Azad Jammu and Kashmir
Azad Jammu and Kashmir Medical College Muzaffarabad
Azad Jammu and Kashmir Medical College Poonch
Azad Jammu and Kashmir Medical College Mirpur
Rawalpindi Medical College
University of Engineering and Technology (UET), Lahore