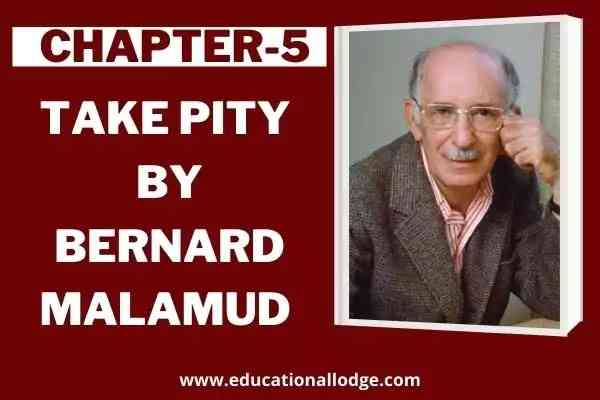 Take Pity
About The Author | Bernard Malamud
Bernard Malamud (1914- 1986) enjoys a respectable place among the distinguished writers of Jewish American literature. It was a literary movement that began during the 1930s and it was famous for its beautiful blend of comic and tragic elements.
Malamud was born to a struggling Jewish family of Russian immigrants who migrated to the U.S.A. He used to attend a local Yiddish( the language spoken by Jews in Europe) theatre which inculcated in him a desire to write short stories. He used to be an avid reader in his early years.
Bernard Malamud learned a lot about Jewish culture, traditions, and customs through his extensive reading. His literary contributions contained a few novels but he was more reputed for his eye-opening short stories which mainly focused upon the miseries, distress, woes, worries of the Jewish families, and social prejudices towards the Jews.
Summary
Bernard Malamud is one of the most famous American novelists and short story writers. Most of his short stories focus on the miserable plight and undaunted struggle of the wandering Jews in unpleasant circumstances during the economic recession of 1930 in America.
The story represents the two distinct living styles and separate approaches to life in Poland and America. Eva is a Polish citizen while Rosen contrary to Eva is from America and has a different approach. Malmund reflects on the social, cultural, and economic issues of the modern era.
The story Take Pity shows a realistic and marvelous picture of two societies. It is based on compassion and pity. Rosen shows love in the form of compassion to Eva which she refuses to take and Eva too shows compassion to Rosen in the last of the story but it seemed vain
In the story, Axel Kalish, with his whole family came to America from Poland. Hitler had killed his all relatives. In America, he had to work hard for the existence of his family. He had opened a store in a poor area of the city.
The store did not flourish. It went down day by day. Axel demanded credit from a company. Rosen, the salesman of that company came for an investigation. He advised Axel to leave the store and get a job or at least to shift his store to a better locality.
Being a sympathetic person, Rosen recommended his case. Unfortunately, Axel died because of sickness. After the death of Axel Kalish, Rosen met Eva; the wife of Axel Kalish. He advised her to run away from the place because her husband had borrowed a lot of money.
He thought that Eva could not pay their debt. Rosen told her that the particular place was not suitable for the store and she must replace the store, but she did not accept his advice. Eva refused to run away and decided to buy new stock with insurance money and fixed up the store.
Roosen was extremely sincere in his offers. He used all means to help Eva. It was Eva who rejected his help, kindness, and powerful emotions of love. Rosen even offered to marry her but she discouraged him. Eva's reply broke his heart.
Rosen always tried to create harmony, trust, and friendship with Eva and her daughters. He also advised her that she should marry any sincere person, who could give her love and affection to her daughters. But she refused him by saying,
With marriage, I am finished. Nobody wants a poor widow with two children.
One day he tried to give some food to her daughters but they refused to accept it by saying: We can't take it, Momma says today is a fast day. At that time Rosen became sad. Then he called his lawyer and drew a will of leaving everything he owned to Eva and her daughters.
Then he reached home and tried to commit suicide but he was saved. At that moment when Rosen was telling his story to David; a census taker, there was a noise outside the window. He saw, Eva, standing there with lifted arms and beseeching eyes.
Maybe she was going to surrender but it was too late to mend. Rosen cursed and abused her. He cried  Go away from here, go to your children. This was the last scene of the story. It is proved that Eva is right and Rosen does not have any true love for her.
Important Questions and Answers
Question 1:
The story Take Pity is about the struggle of a woman against the exploitation of men. Discuss.
                        Or 
What is the theme of the story Take Pity?
Answer:
Take pity is a story in which the writer has portrayed an undaunted struggle of a woman Eva. She turns down every effort of Rosen Eva a Polish refugee whose husband has died. She is running a general store. She has two daughters.
After the death of her husband, she tries to establish the store by investing 1000 dollars of her late husband's life insurance. Her business proves totally failure. Eva possesses strong willpower. She is self-confident and has great courage to face difficulties.
Rosen her late husband's friend tries his best to help her. She rejects all his offers for financial assistance, time and again. Eva has strong willpower and self-confidence. She is hardworking and optimistic. She tries to re-establish the store.
She works hard day and night. Unfortunately, she fails in running the store. Rosen gave her many proposals such as to get a job, and to marry someone. She rejected all his proposals boldly because she did not want to become a financial burden on anyone.
She was fully aware that no one would marry her with two daughters. She believed in hard work and honesty. She trusted her own abilities instead of depending upon others. She rejected all offers of Rosen to help her and her children because she did not like to live on charity.
A millionaire I don't expect to be. All I want is should make a little living and take care of my girls. We will live in the back here like before, and in this way, I can work and watch them too.
She did not want to lose her self-respect and freedom at any cost. Her brave struggle is an example for all poor people. The story thus presents the undaunted struggle of a woman who after the death of her husband refuses every offer made to her in the form of charity.
Eva stands for all human beings who want to live with social values. In short, she did not accept his advice because of her false pride. In fact, Rosen had fallen in love with the beautiful Eva, but she could not understand his sincere feelings for help.
Question 2:
What were the ways in which Rosen tried to help Eva in Take Pity by Bernard Malamud?
Answer:
Take Pity is a story of human values and honor. It represents two Characters, Rosen and Eva. They stick to their values under odd circumstances. After the death of Eva's husband, Rosen showed sympathy and kindness to Eva on many occasions but she refused to accept his help.
She knew that all his attempts were motivated by pity. She wanted to be respected and loved not pitied. Firstly, Rosen advised her to leave the place. She should go to one of her relatives who might help and protect her to set up her business and look after two daughters.
In reply she said, My relatives, Hitler took away from me. Secondly, Rosen advised her to do any job and marry somebody. But she rejected his advice. Thirdly, Rosen proposed to Eva to marry him because he was a sick man with one kidney, and after his death, all his property would be under her control.
But she denied his proposal by saying, I had enough with sick men. Fourthly, he gave food to her daughters.  He brought a delicious piece of beef for them. The next day, he tried to give them some cakes. Fega refused to accept that offer of cakes.
Fifthly, he sent her two hundred dollars from another city under a fake name. This plan also did not work because she did not accept the amount. Sixthly, he wrote a will in which he left all his property to her and to her daughters.
Thank you very kindly, my friend, Mr. Rosen, but charity we are not needing. I got a paying business and it will get better when times are better.
Burt Eva refused all his help and pieces of advice in the form of charity and pity. In fact, Eva is a woman of strong will. She is a courageous woman. She wants to live in the world without anyone's help. She stands for those who want to live with values.
Her character throws light on human valor, courage, and determination. It was because of her will to face life and its hardships alone that she would not accept Rosen's offer of help. She rejects all suggestions of Rosen because those were based on charity and pity.