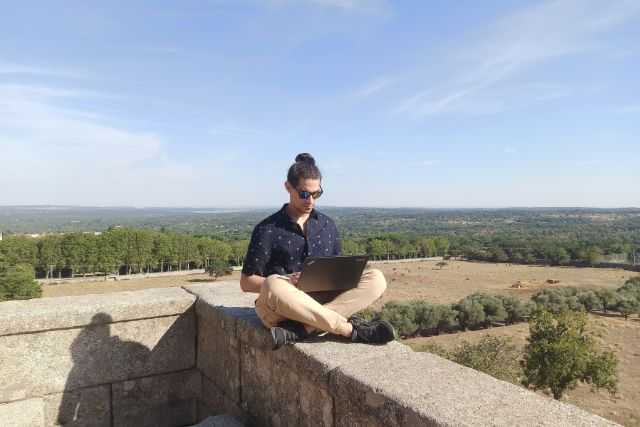 Many people dream of being financially independent to pursue their passions whenever and wherever they please. But what if you could do both? In recent years, there has been a dramatic increase in the number of people leaving behind the 9-to-5 office grind in favor of a more nomadic existence. The inspiration for the plan comes from the desire to achieve a better work-life balance. A life where you can provide for yourself and your family without compromising your hopes, independence, or ambition to see the world. The question of how to get there and move your career abroad may also be on your mind. If so, read on to learn about the top jobs for digital nomads in 2022 and take the first step toward your new adventurous life.
Top jobs for digital nomads
Some people may believe it is impossible to find a profession that allows them to be digital nomads and work from anywhere in the world. Maybe you think that only a select few can work while traveling. However, it's possible, and even shockingly easy, provided you are determined and know where to hunt for remote jobs.
Every year, more and more jobs are added to the list of those that can be done remotely and are thus compatible with the lifestyle ideal for digital nomads. And to help you find the perfect one, we did thorough research and discovered the best opportunities for remote jobs in 2022. Trust us, soon enough, you'll be hiring movers for your international move from the US who will help you reach your new home safely and start your adventure as the latest member of the ever-growing digital nomads tribe.
#1 Blogger/Influencer
Being a famous blogger or influential social media figure is one of the most sought-after jobs for digital nomads. After all, who wouldn't like to earn money traveling the world or talking about what they're passionate about to their followers? However, it's also one of the most demanding careers in the digital realm, even though it might not seem that way at first.
It's the blogger's responsibility to produce content that readers will enjoy. These updates ought to be interesting, useful, motivating, and educational. An influencer must establish themselves as genuine and credible to build a loyal following. Blogging is a position of influence, and as such, it calls for a wide range of skills, including originality, communication, content creation, networking, time management, search engine optimization, and photo and video editing.
#2 Copywriting
In a nutshell, copywriting means writing materials for advertising and marketing purposes. As you might expect, freelance copywriters may conduct business with customers everywhere there is access to the internet (which is the case for every one of the careers we've included). Don't be shy about putting your writing skills to the test. If you don't want to limit yourself to creating promotional content, copywriting is a great entry point into freelancing. From there, you can expand into general writing, which offers an almost limitless well of potential subjects and writing styles, given the proper clientele.
#3 Social media management
This role requires managing a client's online presence through content strategy development, content generation, and data analysis. Facilitating client support and overseeing digital marketing efforts are other crucial responsibilities. This may occasionally require updating their profiles, producing articles for their sites, or distributing content from other sources across many online mediums.
This position is ideal for you if you have an extensive background in growing and promoting on social media platforms. And remember – education is the key to success, so even if you don't have too much experience, you can easily find great online courses and training to sign up for and learn. An internship is also one of the most significant ways to obtain practical experience in this field.
#4 Translator
Translating could be a good fit if you are bilingual or multilingual and are looking for a remote position. A professional translator's primary responsibility is to accurately convey a message's original meaning and context from one language to another. To be successful, a translator must be able to adapt to the needs of their clients.
You need to know at least two languages fluently. However, you also need to be able to work under pressure, pay close attention to detail, pick up on new ideas fast, and communicate effectively in writing. In exchange for their language talents, translators can work whenever they want, allowing them to see the world. It's common practice for interpreters to visit unfamiliar locations and participate in off-site events like conferences and seminars.
#5 SEO expert
Search engine optimization (SEO) specialists are in high demand among digital nomads because of the excellent financial rewards and the flexibility of the location-independent lifestyle. If you are deeply interested in digital marketing and the internet, this is a fantastic major to pursue. The path to becoming an SEO professional, like many other in-demand digital nomad professions, involves significant time investment to master the intricacies of SEO. You should also be aware of the latest Google ranking and updated news. A search engine optimization (SEO) expert will examine, test, and adjust the site as needed to ensure maximum visibility in search results.
#6 Online English teacher
If you're a native English speaker looking to live the digital nomad life without giving up your job security, consider teaching English to students abroad. Skillsets necessary for this kind of remote employment include fluency in both spoken and written communication. You should also have the ability to listen carefully and the ability to organize and prepare effectively.
The rewards can be great, and the work is an excellent opportunity to obtain teaching experience if you go into it with the correct frame of mind, a kind and flexible approach, enough patience, and self-control. An online English instructor is responsible for creating classes, grading student work, and responding to student inquiries about their progress. If you are not a native English speaker, you need to be proficient in English and hold a relevant certificate to prove you can be a reliable online English teacher.
Which one of these jobs for digital nomads will you choose?
We hope our list of jobs for digital nomads inspired you to pursue the one that perfectly fits your personality and dreams. Now wait no more; start making your international moving checklist and preparing for the adventure of your life.