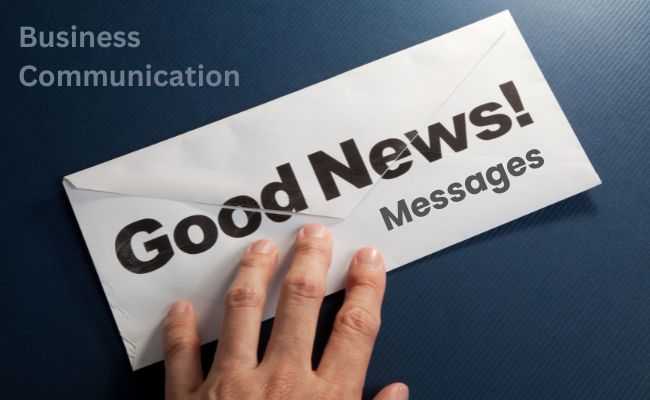 Do you want to know how to compose a good news message? Business communication amateurs may be familiar with the meaning, significance, and formats of good news messages, but they may be interested in learning how to design one that leaves a positive impression on the reader. Since good news is naturally uplifting, writing about it doesn't take any more time or effort.
Good News Messages are positive replies written to convey to clients and customers favourable responses to their requests. Good News Messages include the following types of letters:
Replying favourably to requests for information
Acknowledging the orders
Responding favourably to adjustment requests
Letters of recommendation
Letters offering employment
Neutral Messages
These messages include:
Announcements about:
Sales and Events.
Procedures, Policies and Responsibilities.
Transmittals
Direct Approach, sometimes known as a "Good News Plan," is a technique used to both inform and affect readers on the news. Generally speaking, the sender employs this strategy since good news is frequently simple to comprehend and fulfilling, whereas a bad news message is not in the reader's best interest and is therefore delivered using an indirect strategy.
Plan for Good-News Neutral Messages
When you write a Good-News or Neutral Message, you act upon the following Direct Approach Plan:
Good News or the Main Idea
Details / Explanation
Positive, friendly Close
Good News or the Main Idea
The writer opens the message directly by making a clear statement of the main idea. The chief objective of a Good-news message is something pleasant to prepare the reader for the explanation that follows. to tell the reader something pleasant, and the main idea must contain that something pleasant to prepare the reader for the explanation that follows.
Details / Explanation
After describing the main idea, the writer should give the details. about the matter under discussion. If needed, the necessary explanation should also be given so that the reader should have no confusion in understanding the message.
Positive, Friendly Close
The letter should end on a positive and courteous close. Besides this, the writer must sum up the statement of the action he desires.
Demonstrations of Good News Messages
Replying favourably to the request for information and action
Dear Sir,
Sent herewith is a copy of 'The Sunday Fun' that you asked for. The jokes contained in the issue comprise the latest of their kind in the world of humour. You will certainly enjoy it a lot and would never be able to forget even a single joke. The book also has a huge variety of jokes for all occasions worthy to be shared among friends and colleagues.
We are waiting for your order for the annual subscription.
Yours truly,
X.Y.Z 
Acknowledging receipt of order
Dear Sir,
Your order of March 20, 2017, for 40 colour monitors has been received. We feel obliged to you for your trust and confidence in us.
We are pleased to inform you that the monitors you have ordered are available in our ready stock, and we will ship them tomorrow to make sure that they reach the time limit you have mentioned. The sets will be packed exactly in accordance with your instructions.
Kindly let us know if there is anything else we can do for you.
Yours truly,
X.Y.Z
Letter Granting Adjustment
Dear Sir,
You will receive by Saturday, October 29, a Colour Monitor of the same make and model. to replace the defective one. We thank you very much for giving us the opportunity to support our claim of customer satisfaction.
We feel greatly sorry for the inconvenience caused to you. You may please be assured that it was just a chance mistake. We, however, regret it much and apologize to you for the same. The defective monitor may please be forwarded to us at our expense.
We assure you of our utmost, sincere efforts to satisfy our valued customers.
Yours truly,
X.Y.Z 
Letter of Recommendation
Dear Sir,
Thank you for your letter of October 21. 2017 in which you have requested us to furnish information about Mr Afzal Ahmed who worked with us for about three years. i.e. November 20, 2005, to September 15, 2017.
We are pleased to tell you that Mr. Afzal Ahmed joined our organization as an Accounts Assistant. but by dint of hard work, devotion and special aptitude. he got a promotion as an Accountant within two years. We find great potential in him because he is intelligent. diligent and honest. We shall be pleased to furnish more information m this regard if you ask for it.
Yours truly,
X.Y.Z
Letter Offering Employment
Dear Mr Ali,
Subsequent to your successful qualifying the written test and interview. You have been selected to join our organization as Office Incharge. beginning September 10, at a fixed salary of Rs.25.000 per month.
You are requested to visit our Manager II.R. on September 09, at 9:00 a.m. to sign the Agreement of Employment.
Be sure that you are going to join a dynamic organization that provides brilliant opportunities for growth. We wish you all success in your future career.
Yours truly,
X.Y.Z
Goodwill Messages are Part of Social Correspondence
To fulfil social obligations or address personal needs that may not be directly related to our official or professional activities, we write letters. Letters of this type include letters of congratulations, invitations, introductions, recommendations, condolences, acceptances, and regrets, as well as letters making hotel reservations and bookings by air, rail, and other modes of transportation.
Though the format and style of such letters are generally the same as business letters, they have an air of ease and casualness. The tone of these letters relies largely on the degree of connection between the writer and the receiver.
Promptness is the key to success in social correspondence. For instance, your letter of congratulations will be appreciated only if you send it soon after the event. Similarly, a letter offering condolences will have no value if it is sent long after the death.
A few examples are given below to serve as a guide.
Congratulations on Promotion
My dear Ahmad,
I am delighted to know that you have been promoted to Marketing Manager. Warmest congratulations!
It is a recognition that you so richly deserve. I wish you may have many more successes in future.
Yours sincerely,
Rizwan 
REPLY
My dear Rizwan,
Many thanks for your congratulations and good wishes. To make a success of this added responsibility, i need my friends' goodwill. I only hope I can emulate to some degree the distinguished services of any predecessors.
With best wishes,
Yours since
Ahmad
Invitation to Speak
Dear Ahmad,
The Management Association. Model Town is organising a two-day symposium on Current Trends in Pakistani Management on 27 and 28 July 2017. The emphasis will be on the role that management can play in helping the country to make a success of the Prime Minister's new economic programme. 
As the management head of a large national company, you have a great knowledge and experience from which the participants will get benefit and I am sure, it will stimulate new thinking on the subject.
I am, therefore, writing to inquire whether it would be possible for you to be one of the speakers at the symposium. You may select any aspect of the topic you like for your talk.
I enclose a copy of the tentative programme. Most of the listed speakers have already accepted the invitation. Each is given forty minutes to speak.
We hope the dates suit you. I should be extremely grateful if you could convey your acceptance at your earliest convenience so that I may meet the deadline for the arrangements.
With kind regards,
Yours sincerely,
Rizwan
REPLY
Dear Rizwan,
Many thanks for your letter of June. 25, 2017. I gladly accept your invitation to speak at the symposium. I shall let you know in a few days the topic on which I would like to speak.
I believe that within forty minutes one can say all one wants to say on any topic. I. therefore. need no more than forty minutes allotted to each speaker. Of course. I shall be pleased to answer any questions after that.
Yours sincerely,
Ahmad
Letters of Recommendation
Dear Mr Waseem,
Mr Ali Sibtain, who is an applicant for the post of Chief Sales Executive in your company, has been with us for the last seven years. He joined the company as a sales representative and as a result of his hard and sincere work rose to the position of a sales officer within three years.
During this period Mr Ali Sibtain gained a lot of experience in sales promotion. His loving disposition and pleasant style of presentation of products won many new customers. His record of securing orders has been the best in the company for the last four years. We would indeed be sorry to lose him.
With the opportunities available in your organisation he would, I am sure, reach new heights and prove a valuable asset.
With kind regards.
Yours sincerely,
Akhtar 
---
Dear Mr Imran.
I have known Miss Naseem, who is an applicant for the post of Lecturer in English in your college, for the last five years.
As my student in the B.A. and M.A. classes at this University, she actively participated in classroom discussions and gave ample evidence of her capacity to examine critically an expressed opinion and to state clearly her own views in a well-organised and convincing manner. These qualities marked her excel from the rest of the class.
Miss Naseem is amicable, intelligent and witty. Above all, she has a streak of originality.
I have, therefore, no hesitation in strongly supporting her candidature for the post of lecturer. The qualities I have sketched above will surely bring her success in this profession.
With kind regards.
Yours sincerely,
Kiran
Letters of Condolence
Dear Aleem.
I am shocked to learn that your brother expired yesterday. He was ill. I knew but had no idea that we would lose him suddenly.
My colleagues and everyone who knew him understood how I feel. They join me in sending you our deepest sympathies, and we pray to God to grant you the fortitude to endure the loss.
If there is anything we can do to lighten your burden, please do let me know.
With kind regards.
Yours sincerely,
Haider
—-
Dear Waseem,
The news of Aslam's death came as a great shock to us. We will miss his wise counsel and good spirits through which he enlivened all company.
There is, of course, little comfort in letting you know that so many of us share your grief. Please do not hesitate to tell us,if there is anything we could do.
With kind regards,
Yours sincerely,
Imran Saleem
Final Thoughts
In conclusion, developing good news messages are quite cost-effective, and there are a few guidelines to remember while crafting a letter that looks appealing. In general, no one wants to ruin good news, thus the news should be prepared not only to enlighten the reader but also to leave a lasting impression on them.
Good News Messages are, thus, the positive messages that convey to clients and customers favourable responses to their requests. Good Newsletters include letters of promotion or appointment, letters of redress to a complainant, letters acknowledging a client's or employee's plea or request, or letters sanctioning a loan sought by a client or employee.