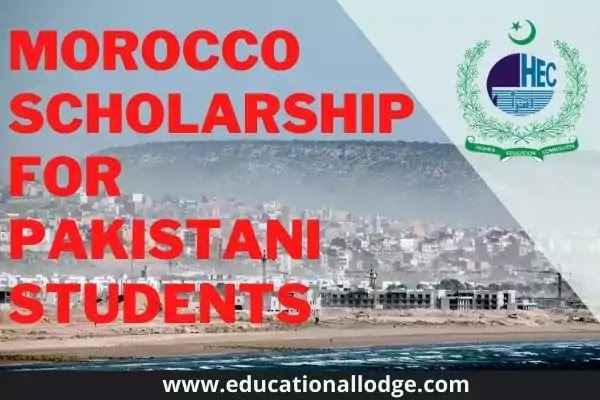 For admission to the Moroccan Public Institutions of Higher, Technical, and Vocational Education for the academic year 2020-21, The Moroccan Agency of International Cooperation (AMCI) has offered scholarships to Pakistani students. The deadline date of receipt of nominations by Morocco is 18th August 2020.
Scholarship Deadline
It is advised that candidates may send hard copies of the application to HEC on or before 16th August 2020. The details of the scholarship are as follows:
Eligibility Criteria | Morocco Scholarship Program
Only Pakistani/AJK national & permanent residents of Pakistan/AJK can apply. Those who have dual nationality are not eligible
Selected candidates will be available to start his/her academic studies in Moroccan Universities by the start of the academic year in September/October 2020.
Applicant must hold the following qualification by the closing date of application
          For an Undergraduate program, a minimum of 12 years of education (FSC/A-  level) Degree is required
          In relevant fields of study for the Master's program, A minimum of 16 years of  education
          In the relevant field of study for admission to the Ph.D. program in the respective Moroccan University. The                  minimum age required for the subject scholarship is 18 years.
The French language is a mode of study and those who do not have enough knowledge of the French language need to take a language upgrade course in the first academic year. Only after successfully passing the language course, students can further be enrolled in their degree program. No chance of repetition in the language course is allowed. Linguistic fields, Arabic literature & Islamic studies are taught in Arabic, and applicants in these fields have to learn Arabic.
It is demanded that Applicant will not currently be availing of any other scholarship.
Applicants need to fulfill other requirements set by the concerned university in Morocco.
The candidate must not be suspended/ expelled from the Kingdom of Morocco except in the case of any criminal activity.
Scholarship Coverage
Please carefully read the details concerned with the subject scholarship program. Click
To read more about
Requirements for visa & residency
Accommodation
Medical
Stipend etc
NOTE: All candidates are advised to read all instructions carefully mentioned in the Moroccan Pdf file.