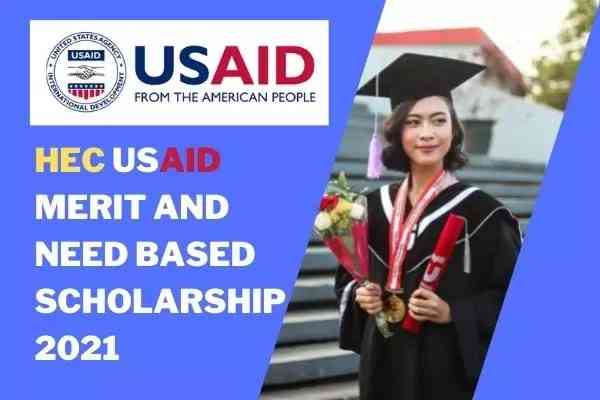 HEC USAID Merit and Need-based Scholarship 
The United States Agency for International Development (USAID), being in association with Higher Education Commission (HEC), offers scholarships/ grants to financially needy students. Only female candidates can apply for HEC USAID Merit and Need-Based Scholarship program (MNBSP). 
Scholarship and Financial Aid are provided through this program.
Under the HEC USAID MNBSP, more than 5300 scholarships have been awarded to the students. Candidates
 can apply through the HEC website and submit the documents to their concerned University's Financial Aid Office. Two years of associate degree programs and the nomenclature of BA/BSc programs are not included in this program.

The scholarship will be awarded on merit though HEC has the right to cancel the scholarship award on the basis of incomplete, dubious, and incorrect information of the applicant at the time of physical verification. In the public sector universities, admissions on a self-sustain/ self-support/ self-finance basis, or in evening programs with higher few structures are unacceptable.
HEC USAID Scholarship 2021 Covers
The Needs-Based Scholarship program covers grants for the following expenses:
Tuition Fee

Books

Boarding & Lodging

Transportation

Other Academic expenses​
Eligibility Criteria 
Only Female students can apply for Session 2021

Students enrolled in 30 respective Public and Private Universities

Students pursuing Master's/MBA/MS/MPhil/ Education Teaching degree programs in specific disciplines

Female candidates who fulfilled criteria of need and provided all the information given under the rules
Instructions to Apply for USAID MNBSP 2021
The application is submitted only at HEC online system at  http://scholarship.hec.gov.pk The printout of the application with required supporting credentials can be submitted to the Financial Aid Office of the particular university. Please do not send your documents to HEC. Contact the Financial Aid Offices of University for more details
Scholarship/grant Selection Process
For the USAID-funded Merit and Need-based scholarship program, the complete application process will be managed by the Institutional Scholarship Award Committee. On the recommendation of The scholarship award committee, the selected students will be awarded scholarships by the HEC Scholarship Management Committee. 
HEC's Scholarship Management Committee will review the applications and sanction grants to the eligible students.  The scholarships will be delivered and then the concerned university will advance the funds to the selected candidates.