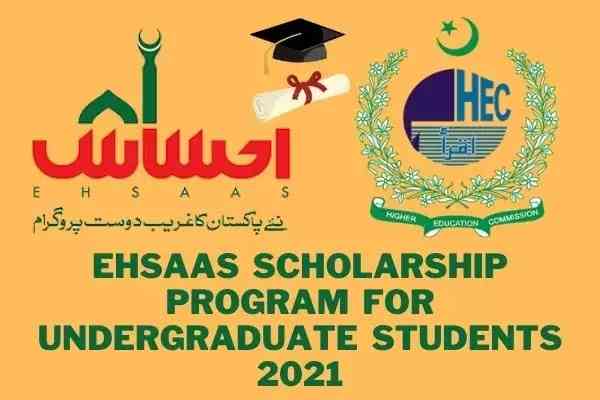 Ehsaas Scholarship Program 2021
For applications for session 2022, the Ehsaas Undergraduate scholarship will be resumed on September 30, 2021. Dr.Sania Nishtar announced through her official Twitter handler. Last year 67,000 scholarships were awarded to the students through Ehsaas undergraduate scholarship program.
The committee for Ehsaas Undergraduate Scholarship has sanctioned a budget of Rs6.53 billion. 111,685 undergraduate students applied for the scholarship last year. Out of these 42,430 were female students.
HEC will restart the Ehsaas Undergraduate Scholarship portal for session 2021/22 on September 30, 2021.
Ehsaas Undergraduate Scholarship is a program that the government of Pakistan has started as the country's biggest Scholarship program in 2019. Under this scholarship program, 200,000 deserving/destitute students will be benefitted from these scholarships in four years. 
50% quota is reserved for female students for Ehsaas undergraduate scholarships. It is a fully-funded program that covers tuition fees and a monthly stipend will also be given to the scholars. 
Features | Ehsaas Scholarship Program 2021
50,000 Scholarships per annum

In 4 years200,0000 undergraduate scholarships

50% of seats specified for Girls 

Full tuition fee

4000 Monthly allowance 

Special Preference to disabled and students belonging to underprivileged areas
Eligibility Criteria | Ehsaas Scholarship program 2021
Needy/deserving students from low-income families

Undergraduate students registered in affiliated public sector universities can apply

Only those students can send applications who got admission on merit in public sector respective universities

Those who got admission on self-finance / self-support program are not eligible to apply for the scholarship

Students who are availing of any other grant from any source are ineligible to apply

Students already taking any other scholarship or grant from any  other source are ineligible to apply

This program is only for regular students. Distant learning students are ineligible 

Eligible students can apply online at https://ehsaas.hec.gov.pk/#/login

The complete application form can be particular to the respective university's financial aid office

Do not send the application form directly to HEC or BISP
Ehsaas Scholarship Deadline
The scholarship program will restart on September 30. Deadline/The last date for Ehsaas Undergraduate Scholarship 2021 will be announced soon.