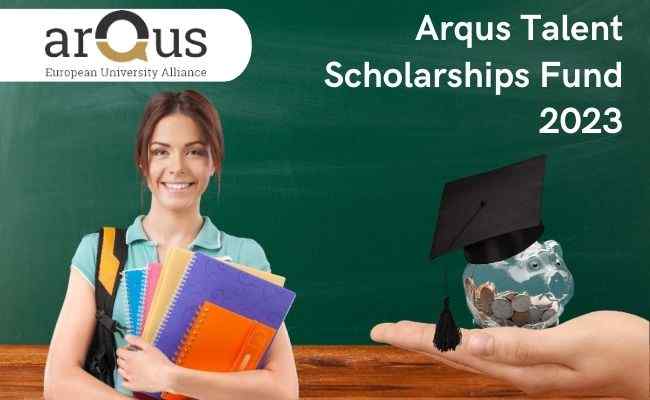 The Arqus Talent Scholarship is an esteemed scholarship program (Arqus European University Alliance) that aims to attract and retain outstanding individuals at the postgraduate level from across the globe. This initiative is specifically designed to attract highly talented students and provide them with opportunities for advanced education and research.
Applications are now open for the Arqus Talent Scholarship 2023. The deadline to apply for the grants is July 3, 2023. All international candidates interested in pursuing a master's or doctoral program at Arqus European University Alliance are encouraged to apply for a fully funded scholarship based on academic excellence.
The scholarship will cover all expenses and is supported by the European Government. Postgraduate students are eligible to apply, and there are no application fees. This is an exceptional opportunity for international students to study at one of our esteemed partner institutions in Europe.
Overview of Financial Rewards
As a recipient of the Arqus Talent Scholarship at Arqus European University Alliance in 2023, you will receive a monthly stipend of 1,400.00€. The Arqus Talent Scholarship includes full coverage of tuition fees. The funds provided through this scholarship are intended to support various expenses, including living costs, health insurance, and academic materials.
Required Documentation
To complete your application for the Arqus Talent Scholarship, you are required to provide the following professional documents:
Confirmation of admission to the university of entry
Ph.D. research proposal along with a motivational statement (for doctoral students only)
Diploma or degree certificate for BA/MA
Recommendation letter(s) from academic or professional references
Curriculum vitae (CV) highlighting your educational background, research experience, and relevant achievements
Language Certificate (Passport) demonstrating proficiency in the required language(s)
Eligibility Criteria
To be considered for the Arqus Talent Scholarship, applicants must meet the following eligibility criteria:
International Student Status: Applicants must be international students, seeking to pursue a Ph.D. program at one of the partner institutions in Europe.
Academic Excellence: For admission into the doctoral program, applicants are required to have achieved a minimum grade of B in their previous master's coursework.
Language Proficiency: Applicants must demonstrate a minimum B2 proficiency level in any of the Alliance languages, as an essential requirement for effective communication and academic engagement.
Helsinki University Study Scholarships 2023
Application Deadline and important dates
The deadline for submitting applications for the Arqus Talent Scholarships 2023-24 is July 3, 2023.
Application Process
To apply for the Arqus Talent Scholarships for the academic year 2023, please follow the steps below:
Online Application: Submit your scholarship application online through the designated application portal. Visit the provided "Apply" link to access the application form.
Official Advertisement: For comprehensive information and specific requirements, refer to the official advertisement. You can find the advertisement by following the link provided: