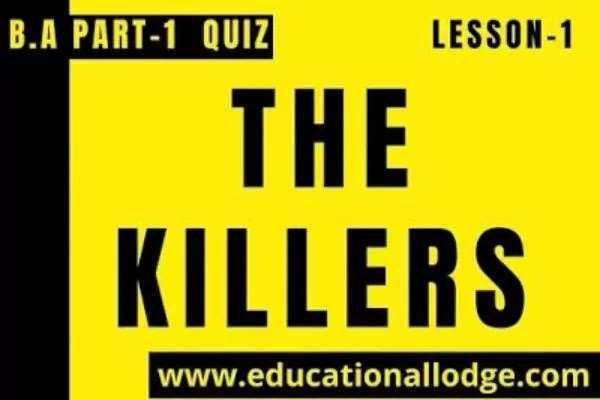 The Killers by Ernest Hemingway Quiz
Q. Choose the best answer out of the given alternatives.
1. What are the names of the 

two expected killers of Ole

Anderson?




(a) All and Something
(b) Al and Ell


2. Whose lunchroom it was?
3.  What is the name of the town?

(a) Summit
(d) Mountain-Top

4. What is the name of the 

expected prey?



 (a) Al Anderson
(d) Ole Anderson
5.  Where does Ole live?
(a) Hirsch's rooming 

house
(c) In Henery's hotel
(d) In the market
6. Who went to inform Ole 
about the arrival Of 
expected killers?

(a) George


(b) Henry


(c) Al
(d) Nick
7.  Who looked after Mrs.

Hirsch's rooming house? 

(a) Mrs. Flute


(b) Mrs. Cow




(c) Mrs. Ox
(d) Mrs. Bell
8. Who said: "I've been in here all day"?



9.  Who "was lying on the bed 

with all his clothes on"?

(a) Ole Anderson
10. Who had a derby hat on his head?

(a) Old
(b) Al
Fill proper words in the blanks of these sentences;
1. The  two men at the counter and the menu
2.  "I'll have roast pork tenderloin with apple sauce and mashed potatoes
3. "Give me chicken croquettes with bright peas and cream 

sauce and mashed potatoes".
4.  "Another bright boy," Al said. "Ain't he a group boy, 

Max?"
5. He was like a photographer arranging for a group's picture.
6.  If anybody comes in, you tell them the cook is off.
7. Nick and the cook were back to back 

in the comer, a 

towel tied in each of their mouths,
8.  George went back through the swinging door into the kitchen and untied Nick and the cook.
9. Outside there is light shone through the bare branches of 

a tree.
10.  Ole Anderson was lying on the bed with all his clothes on.
11.  They were going to shoot you when you came into supper.
12.  As he shut the door, he saw ole Anderson with all his clothes on, lying on the bed looking at the wall.
13.  "Yes," said Nick. "He is in the room and he won't go out.
14. "1 can't stand to think about him 

waiting in the room 

and knowing he's going to get it. It's too damned awful."
 Say which sentences are true and which are false
1.  Al and Ole are the expected killers.

True
False
2. 

The name of nigger is Sam.



True
False



3. The killers are in search of Ole Anderson.

True
False
4. Nick Adams warned Ole Anderson about the expected 

killers.



True
False

5.  Ole cares much for his safety.

True
False
6.  Ole had been a heavy weight prize fighter.

True
False
7.  Ole lived at Hirsch's rooming house.

True
False
8. Nick liked the town very much.

True
False
9. Al and Max wanted to kill Ole because "he must have got 

mixed up in something in Chicago".



True
False



10.  Al and Max kill Ole Anderson in the end.

True
False
11.  Silver beer, Bevo and ginger ale could be supplied by 

George to the customers at his restaurant.



True
False



12.  The name of the town in the story was Topper.

True
False