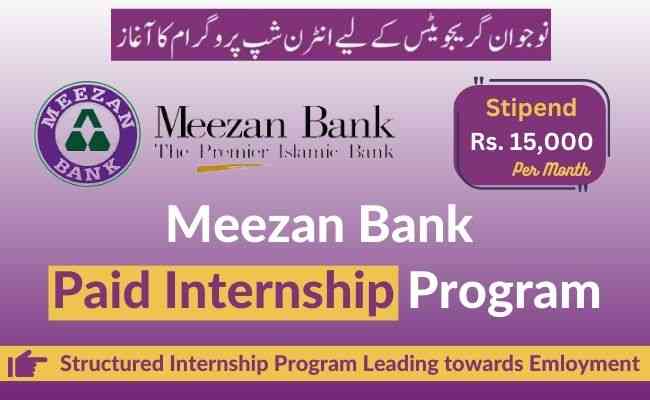 Meezan Bank currently announced a paid internship program. Meezan Bank Is Providing Paid Internships: Meezan Bank, one of Pakistan's biggest banks, has introduced a paid internship program for recent graduates. This initiative is known as Meezanship 2023, and it has been running for many years.
Selected interns will receive a monthly stipend of up to fifteen thousand rupees upon successful completion of the internship. Additionally, there is a possibility of securing employment within Meezan Bank through this program.
Meezan Bank hired 100 students who completed internships last year. The internship program lasts anything from three to six months.
Online Registration for PM Laptop Scheme 2023 Starts
Criteria for Eligibility
Applicants should graduate with a minimum of 16 years of education.
Applicants should be below 24 years of age.
Hafiz of Quran or individuals with different abilities who have completed Dars Nizami Shahadat Ulamia from an HEC-recognized board will be granted a one-year age relaxation.
Minimum CGPA requirement of 2.60 in any discipline to be considered for the internship program.
Procedure to Apply
To apply for the Meezan Bank Internship Program, interested candidates can visit the official website of Meezan Bank and submit their applications. The application submission date is 25th June 2023.
Meezan Bank Internship Position
Meezan Bank offers internships in the banking and financial services sectors in a variety of areas.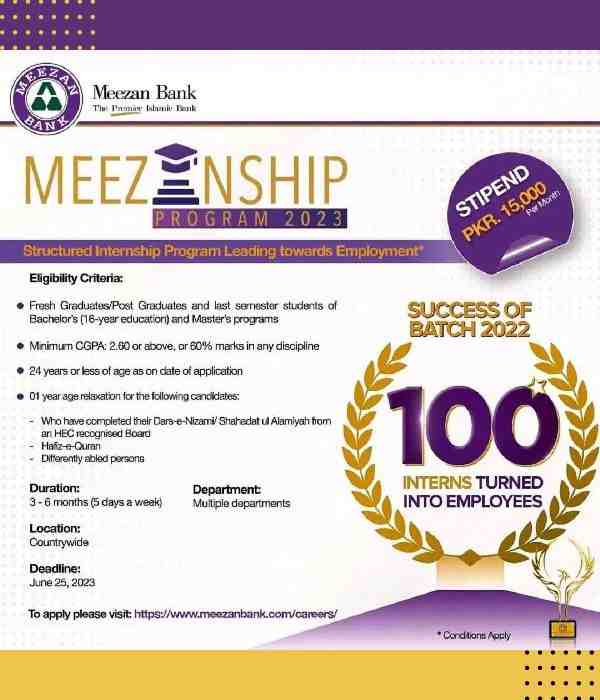 Age Requirement
The age limit for the internship program at Meezan Bank is set at 24 years. Applicants who exceed this age requirement will not be eligible, except for Hafiz Qur'an students with diverse abilities and individuals who have completed their education from a board recognized by the Higher Education Commission, who will be granted a one-year age relaxation.
The primary goal of Meezan Bank's internship program is to provide fresh graduates with valuable experience in the banking industry. Successful completion of the internship may also open up job opportunities within Meezan Bank for the interns. Those who are interested are encouraged to submit their applications online.