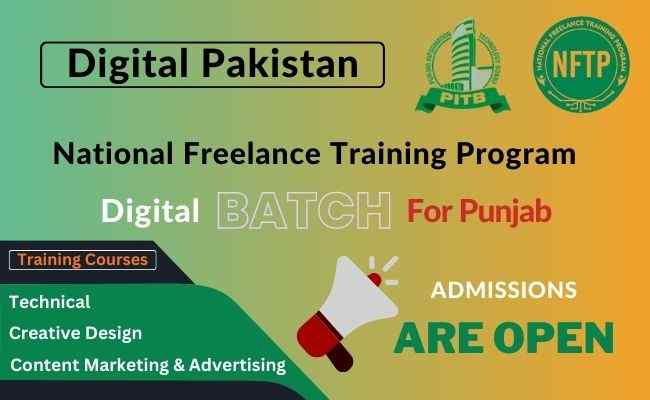 The National Freelance Training Program (NFTP), a joint effort by the Ministry of Information Technology and Telecommunication (MoITT) and the Punjab Information Technology Board (PITB), is now accepting applications for the upcoming phase.
This initiative aims to offer prestigious online job opportunities to the youth throughout Pakistan.
The NFTP empowers young individuals with sought-after digital skills, enabling them to earn a lucrative income through freelancing. Over 11,000 students have successfully completed the program's training, resulting in foreign exchange earnings exceeding $2.25 million.
To make this goal a reality, a comprehensive National Freelance Training Programme (NFTP) has been developed, which offers technical training to ambitious freelancers in all regions of Pakistan. This program intends to empower 21,600 people to be self-sufficient over the course of three years.
A total of 20 training centers have been set up nationwide, offering a three-month training program to unemployed youth in the domains of Technical Content Marketing, Advertising, and Creative Designing.
Meezan Bank Paid Internship Program 2023 for Fresh Graduates
Who can Apply?
To ensure that everyone may benefit from the program, the government of Pakistan has been offering 70% to 100% reductions in tuition fees. Those who have 14-year education qualification are eligible to apply for the NFTP program that has been approved by the Ministry of Information Technology and Telecommunication.
Age Limit
The National Freelancing Training Program admission in 2023 is open to both males and females. The minimum age requirement for this program is 18 to 40 years.
Online Application Procedure
To apply online for NFTP Registration 2023, follow the steps below:
Visit the official website of the National Freelancing Training Program.
Look for the "Apply Online" or "Registration" section on the website.
Click on the provided official link to access the online application form.
Fill in the required personal information accurately, such as your name, contact details, National Identity Card (CNIC) and domicile of the respective province, and preferred NFTP Center details
If you have completed at least 14 years of education, please choose your degree and institute from the provided dropdown list. Mention your CGPA/Marks to move on to the next phase.
Choose your domain from the options provided: Technical, Non-Technical, or Creative Designing.
Take an online test and submit it once completed.
If you are shortlisted, you will receive an email/SMS instructing you to pay the registration fee at the designated partner institute. Additionally, you will be required to submit scanned copies of the challan and other documents (Degree, CNIC, Picture) online for verification.
If you are a student at one of our partner universities/institutes, please mention your degree, semester, and CGPA (if applicable) and proceed to the next step.
Shortlisted applicants will receive an invitation to visit designated centers for the collection and verification of their original documents.
Enrolled applicants will now become part of the National Freelance Training Program.
Note: The application process does not guarantee acceptance into the program. To view your candidate profile, which includes detailed personal information and course information, kindly click here.
The eligibility criteria for NFTP are as follows:
The applicant must possess a valid CNIC (National Identity Card).
Applicants must be at least 40 years old.
For the general public, the applicant should have a minimum of 14 years of education.
For partner institutes, the applicant must be enrolled and possess a valid university/college ID card.
Note: PFTP-certified individuals are successfully earning online. However, individuals who are already employed are not eligible for this program.
NFTP Official Tweet
Courses List
NFTP provides admission on an open merit basis and is affiliated with 20 additional centers that operate round the clock. Gilgit Baltistan, Khyber Pakhtunkhwa, Sindh, Federal, Punjab, Balochistan, and AJ&K residents are eligible to apply for PFTP admission in 2023.
Moreover, prospective students can secure admission in Technical Courses, Content Marketing, and Advertising, as well as Creative Design.
Technical Courses
---
PHP
Web Design
JavaScript
HTML 5
WordPress
Responsive HTML
MySQL
Domain and Hosting
Content Marketing & Advertising
---
Content Writing
Proposal Writing
Digital Marketing
Social Media Marketing
Internet Research
Data Entry
Blogging
E-commerce
Creative Designing
---
Adobe Photoshop
Adobe Illustrator
Coral Draw
UI/UX Design
Graphic Design
Logo Design
Books & eBooks Design
Banner Design
Duration
The duration of the courses is 3 months, during which students are required to complete the program to obtain their certificates.
NFTP Freelance Platform
Due to the ongoing Corona Pandemic, the program offers the convenience of quick online access and the ability to receive training from the comfort of home.
Additionally, admissions for the new program are open to all individuals interested in participating in this course, free of cost. Upon successful completion of the course, applicants will receive a certification of training completion.
Registration for the 2023 National Freelance Training Program
To begin the registration process, please enter your CNIC number and agree to the terms and conditions. Next, provide your personal, academic, contact, location, and tracking information. Upon completion, you will be required to take a screening test consisting of 30 multiple-choice questions (MCQs). Please note that the mentioned institutes charge a fee of Rs 4000/- for the complete course. The course fee must be deposited at the beginning of the session.
NFTP Contact Numbers
Phone: 04299030127
Email: info.nftp@pitb.gov.pk