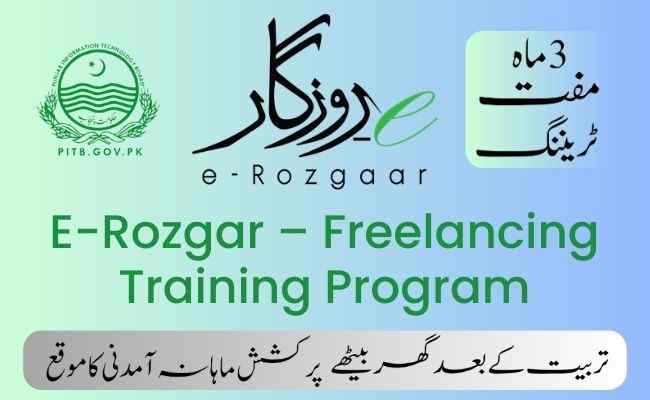 The E-Rozgar program is a freelancing training program that has been restarted, and if you haven't registered yet, here is the complete registration procedure. In an effort to combat increasing poverty and provide online employment opportunities for the youth, the government of Pakistan has taken a revolutionary step.
The e-Rozgaar Program is an initiative led by the Youth Affairs & Sports Department, implemented by the Punjab Information Technology Board(PITB), with the aim of providing training to the youth of Punjab and equipping them with digital skills. Its objective is to equip young individuals across the province with the skills they need to succeed in the digital freelance industry.
Over 52,000 candidates have benefited from this valuable opportunity of free training, with a notable 57% participation from females. These trainees have collectively earned an impressive amount of over 3.6 Billion PKR through freelancing, showcasing the significant impact and success of the program.
The e-Rozgaar Training Program provides the option of both on-campus/physical and online training. Admissions for the upcoming batch of the program are now open, offering individuals the opportunity to apply and participate in the training sessions.
The e-Rozgar Training Program boasts several special features, including:
The program is accessible in 36 districts of Punjab, ensuring a wide reach and coverage. With 40 training centers spread across the province, participants have convenient access to training facilities. The program has successfully produced over 15,000 freelancers per year, enabling individuals to gain valuable skills and pursue freelancing opportunities.
E-Rozgar courses list
The E-Rozgar program offers a variety of courses to cater to different fields and industries. Some of the courses available are:
Course Name
Technical
Web Development Basics
HTML & CSS
SQL
PHP& MySQL( Dynamic Websites)
Building Websites using WordPress
Custom Content Type in WordPress
WordPress theme & Plugin Development
Content Marketing & Advertising
Content Marketing
Content Writing
Search Engine Optimization
Social Media Marketing
Search Engine Marketing
e-Commerce
Blogging
Youtube Marketing
Marketing Funnels
Email Automation
Creative Design
Adobe Photoshop
Adobe Illustrator
Adobe InDesign
Logo Designing
Corporate Identity Kit Designing
Social Media Kit Designing
T-Shirt Designing
Book Cover Designing
E-Commerce
Shopify Store
Dropshipping Store
Facebook/Instagram for e-Commerce Store Marketing
Setting up a local e-Commerce store in Pakistan via Shopify
Selling skills related to e-Commerce on freelancing platforms
These courses are designed to equip participants with the necessary skills and knowledge required to excel in these respective fields. Through these courses, individuals can gain expertise and enhance their employability or even start their own businesses in these domains.
Eligibility for E Rozgar Program
The E-Rozgar Program has established eligibility criteria that individuals must meet to be eligible for the program. The criteria are as follows:
Valid Computerized National Identity Card
Age limit start from 21 years and up to 35 years.
Applicants must be residents of Punjab.
Applicants must hold a Bachelor's or Master's degree.
Computer knowledge is necessary for the applicants
It is important to note that applicants should be currently unemployed.
Meeting these eligibility criteria will make individuals eligible to participate in the E-Rozgar Program.
Procedure to apply
To apply for the E-Rozgar Program, please follow the steps outlined below:
Visit the official website of the E-Rozgar Program.
Click on the "Apply Now" button.
Fill out the online application form by providing all the necessary information, including your name, contact details, educational background, technical skills, and business strategy.
Ensure that you meet the eligibility criteria, such as being a resident of Punjab or holding a Bachelor's or Master's degree.
After completing the application form, submit it online.
Your application will then undergo an evaluation process, and if shortlisted, you will proceed to the next stage of the selection process.
Keep an eye out for notifications regarding your eligibility for the program.
By following these steps and submitting a complete application, you will be considered for the E-Rozgar Program.
Classes Schedule
The E-Rozgar Program follows a structured schedule for training sessions. Here are the key details:
Class Duration: Each class lasts for 2 hours.
Class Frequency: Classes are conducted from Monday to Friday, providing consistent learning opportunities.
Domain Selection: Candidates are required to select a single domain to focus on throughout the program, enabling them to fully concentrate on their chosen field.
Multiple Classes: Three classes are held each day, covering three different domains with separate groups of students.
Batch Duration: The program spans a duration of 3 months, allowing participants to undergo comprehensive training and skill development within their chosen domain.
Trainers of the Program
In order to effectively teach freelancing and online earning, the E-Rozgar Program has employed highly skilled freelancers as trainers. These trainers possess a minimum of 5 years of experience in their respective domains of freelancing and online earning. They are selected through a rigorous screening process to ensure their expertise and competence.
To provide continuous support, the trainers are available through Facebook and WhatsApp groups even after class timings. They are dedicated to assisting and guiding the trainees whenever they require help. Additionally, the performance of the trainers is closely monitored by 5 Master Trainers, who are seasoned professionals with over 8 years of freelancing experience in their own fields.
eHunar Free Online Courses Registration for 2023 Starts
Helpline Number
For any inquiries or assistance regarding the E-Rozgar Program, you can reach out using the following contact information:
Address
---
Floor 5, Room 6,
Arfa Software Technology Park,
Lahore.
Phone & Email
---
042-35972099
042-35972098
042-99030152
Email: erozgaar@pitb.gov.pk