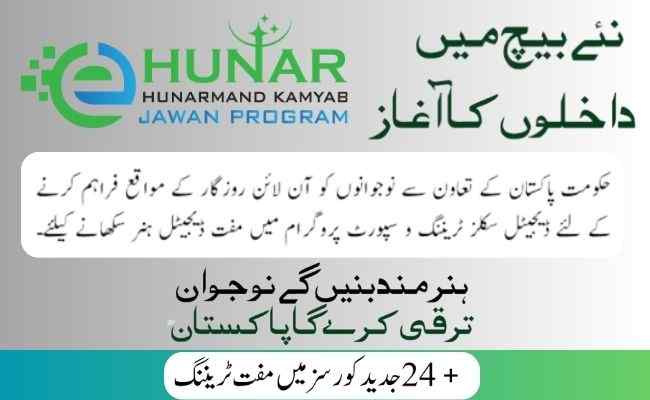 eHunar Free Online Courses for Youth
eHunar is a government-sponsored e-learning platform that intends to empower youngsters with IT training and teach them skills that would help them earn good earnings.
Begin your IT career with the assistance of IT specialists, learn IT skills from them, and begin your road towards poverty alleviation.
The Ministry of Information and Telecommunication provides a conducive environment for the digital ecosystem, encourages the growth of a skilled workforce and innovation, and offers complete support for projects in the IT and telecom sectors.
The Hunarmand Program attempts to bridge the gap between academics and industry by providing online technology-based training.
The objective of the Hunarmand Kamyab Jawan Program (ehunar.org) is to revolutionize and make significant contributions to Pakistan's technology, education, and industry domains by focusing on enhancing skills, fostering entrepreneurial opportunities, and driving economic prosperity.
We aim to embrace the advancements of the 4th Industrial Revolution and emerging technologies to make Pakistan a global IT hub. Our goal is to export products and services related to emerging technologies, fostering socio-technical and economic growth.
By developing a technologically proficient workforce, creating job opportunities, and nurturing an entrepreneurial ecosystem in emerging technologies, we are actively participating in the digital transformation and prosperity of Pakistan.
Millions of Pakistani individuals and people around the world are taking advantage of this chance and earning millions of rupees while sitting at home.
You should be aware that Pakistan is presently the world's fourth largest online freelancer provider country, which means that young people in Pakistan are earning millions of rupees by providing online services while sitting at home.
This benefits both them and the country. You can acquire technical skills from home and advance your career in this new industrial revolution period.
The main objective of this program is to fight poverty and unemployment in Pakistan by promoting freelancing as a promising career path and providing people with the skills they need to create remarkable portfolios. This is a platform for individuals to enhance their skills, seize opportunities, and achieve economic prosperity.
Online Registration for PM Laptop Scheme 2023 Starts
The eHunar – Hunarmand Pakistan Program's Vision
Through the assistance of IT specialists, the goal of ehunar, Hunarmand Pakistan Program is to train our young generation to build a better future and expand the amount of IT-related professionals. So that these people might learn more satisfying skills that will help them grow in their successful professions.
eHunar Courses list
eHunar offers online employment opportunities for young individuals, in collaboration with the Government of Pakistan. Admissions are now open for the upcoming batch, providing free training in over 24+ advanced courses.
Here is a list of the 3-month certification courses offered by eHunar:
MS Office
Search Engine Optimization (SEO)
AutoCAD 2D & 3D
Adobe AfterEffects (Motion Graphics & Animations)
Apps (Web, Mobile & Desktop Apps)
UI/UX Designing
PHP Laravel
Certified Ethical Hacking (CEH)
Python for Everyone
SAP Business One ERP
Cisco CCNA (R&S)
Shopify Dropshipping
AWS Virtual Assistant
AWS FBA Business
Video Editing
The Complete YouTube Mastery
Here is a list of the 6-month certification courses offered by eHunar:
Machine Learning, AI & Data Science
Android App Development
PPC Google Ads
Full Stack Digital Marketing
Full Stack Graphics Design
Full Stack Web Development
Penetration Testing & Web Hacking
eBay Dropshipping
iOS App Development with SwiftUI
Eligible Criteria for free training in 24 advanced courses at eHunar:
Education: You must have completed matriculation to be eligible for registration in any course.
Entry Test: You must score a minimum of 40% marks in the entry test.
Once you fulfill these requirements, you will be considered qualified and added to the program.
Steps to apply for eHunar free online courses :
Visit the official website of eHunar Hunarmand Program.
Sign up as a new applicant.
Confirm your email address by entering the One-Time Password (OTP) that has been sent to your email.
Once your email is successfully verified, proceed to log in to your profile.
Provide your complete profile information and select the preferred course.
Submit the application form.
Take the online test.
Pay the application processing fee and submit the required documents online.
Once you have submitted the required documents, your enrollment will be confirmed.
Contact Details for Information Required
Phone Numbers: +92 42 37495999, +92 42 37495958
Email: info@ehunar.org
Head Office Address: Sector -B, Askari XI, Lahore 54000, Pakistan
Location: Lahore, Pakistan