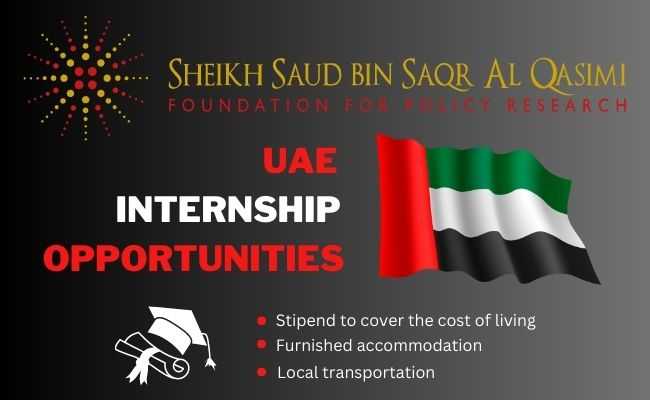 The Al Qasimi Foundation's Internship Program welcomes undergraduate and graduate students from all disciplines who are interested in public policy.
The Sheikh Saud bin Saqr Al Qasimi Foundation for Policy Research was established in 2009 with the goal of promoting the social, cultural, and economic development of Ras Al Khaimah, a northern emirate of the United Arab Emirates (UAE).
Sheikh Saud bin Saqr Al Qasimi, a Supreme Council Member of the UAE and the Ruler of Ras Al Khaimah, established the foundation under an Emiri decree. The Foundation operates as a non-profit, quasi-governmental organization.
This program offers a valuable opportunity for students to engage in practical research and gain hands-on experience for a duration of up to three months. It is especially beneficial for individuals considering graduate school or those looking to apply their academic studies in a real-world setting.
The Al Qasimi Foundation offers a supportive and respectful educational setting where students can acquire professional experience while collaborating with a diverse, multilingual, and international team.
We strive to expose interns to various facets of our organization, assigning projects that provide them with valuable hands-on opportunities to contribute meaningfully to our work and make a positive impact in the community.
Fully Funded KAUST VSRP Internship 2023 in Saudi Arabia
Internship activities cover a range of tasks such as conducting literature reviews, engaging in fieldwork, gathering and analyzing quantitative/qualitative data, undertaking multimedia projects, assisting in the writing of internal and external reports, and carrying out administrative responsibilities.
Interns must adhere to the Al Qasimi Foundation's employment policies and maintain a professional demeanor. As part of their experience, interns will create at least one published policy brief or creative work.
The Foundation provides furnished accommodation, local transportation, and a stipend for living expenses, while interns are responsible for their own travel costs.
Type:                 Fully funded Internship
Duration:           3 months
Eligibility:           All countries around the globe
Country:            Ras AL Khaimah (UAE)
Financial Benefits
Furnished Accommodation
Local Transport
Stipend to cover living expenses
Eligibility Requirements
To be considered for an internship position, applicants must meet the following minimum criteria:
Current Enrollment: Applicants must be currently enrolled as undergraduate or graduate students at an accredited university, maintaining good academic standing. Recent graduates (within the past two years) will also be considered.
English Language Proficiency: If English is not the applicant's primary language, they must provide a minimum TOEFL iBT score of 85 or an IELTS score of 6.5.
Relevant Coursework/Degrees: Applicants should have coursework or degrees in areas pertinent to the Al Qasimi Foundation's work. These may include education, public health, urban planning and development, economic development, food access, and public policy. Students with expertise in other disciplines like public relations, multimedia, or translation may also be considered based on the Foundation's project needs.
Genuine Interest: Applicants must demonstrate a sincere interest in Ras Al Khaimah, the United Arab Emirates, and the wider Gulf region.
Fully Funded Hurford Youth Fellowship Program USA
Selection Criteria for Internship Positions
Merit-Based Selection: Interns are chosen based on merit, considering the following factors:
Academic Achievement
Quality and professionalism of application materials
Alignment of applicant's interests with current Al Qasimi Foundation projects
Personal Statements: Students' personal statements play a significant role in the selection process, as they outline:
Relevant prior experiences, coursework, and skills
Goals and expectations from the internship, and how it contributes to academic and professional aspirations
Preference for Graduate Studies and Research: Priority is given to students who:
Plan to pursue graduate studies
Seek research experience in education, public policy, or related fields
Evaluation and Selection Committee: The Al Qasimi Foundation Program Managers and Director serve as the committee responsible for evaluating and selecting interns.
Competitive Program: The Internship Program is highly competitive, with a limited number of positions available each year.
Internship Schedule
The Al Qasimi Foundation offers a flexible internship schedule, taking into consideration both the organization's program requirements and the individual needs of the intern. Applicants are encouraged to specify any preferences or constraints regarding their availability and schedule.
Requirements for Application
Curriculum Vitae (CV)
Motivation letter
Cover letter
Online application form
Recommendation letters
Grade transcripts
English language proficiency certificate
Note: Incomplete materials will not be taken into consideration during the application process. It is important to submit all the required documents in order for your application to be considered.
Application Process
We strongly recommend that students avail themselves of the resources available at their university career centers to obtain guidance on crafting professional resumes, cover letters, and personal statements.
To apply for an internship at the Al Qasimi Foundation, applicants must complete the online application form. Applications are reviewed on a rolling basis, meaning that preference may be given to earlier applicants.
Note: Only applications that follow these guidelines will be considered for available internship positions.
When to Apply?
All applications that meet the minimum eligibility requirements will be kept on file for a period of 12 months. If new internship positions become open during that time, the Al Qasimi Foundation will contact the applicants whose qualifications match the available openings the best.