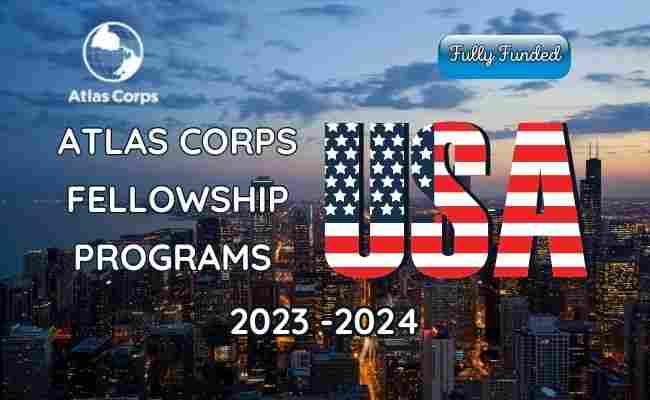 Applications are now being accepted for the Atlas Corps Fellowship and Leadership Program 2024 in the United States. For the Atlas Corps Fellowship 2023–24 in the USA, international students from any country are able to apply.
These fellowships are fully funded and provide an opportunity for leaders and promoters of social change to participate. The program will be open for enrollment in late 2023 and early 2024.
The goal of the international partnership in the United States is to create a vibrant and diverse community of global professionals who can make a positive impact in their communities using the knowledge and skills they acquire during their fellowship.
Through this fellowship program, talented individuals from around the world will have the opportunity to experience top-level professional development that will enhance their future and careers.
Atlas Corps is committed to integrating international professionals into a 12-month US-based Fellowship or a 14-month Blended Fellowship. These extensive fellowships in the US give participants the chance to work with a number of companies and get exposure to the global community.
Additionally, fellows enjoy the benefit of studying under excellent managers who can impart insightful knowledge on finishing a project. One of the unique aspects of this fellowship is that fellows are given full-time positions inside organizations with a variety of objectives, giving them the chance to develop their leadership skills.
Also Read: Paid Nestlé Internships Switzerland 2023
The Focussed Areas of Atlas Corps Fellowship
The Atlas Corps Fellowships for the late 2023 and early 2024 period are specifically focused on three key areas:
Environment and climate change
Operations and human resources
Southeast and East Asia.
These areas form the foundation of Atlas Corps' international collaboration, which aims to look into emerging and contemporary global issues and find effective solutions for them. The United States serves as an ideal platform for professionals to establish strong networks with global leaders.
The primary objective of the International Fellowship Program is to unite exceptional professionals and leaders, enabling them to collectively address social challenges worldwide.
About Atlas Corps
Established in 2006, Atlas Corps has evolved into a network of nonprofit leaders and organizations dedicated to making a transformative impact on the world. Through its 12-month United States Fellowship and 14-month Blended Remote Fellowships, participants are expected to return to their home countries and contribute to their communities in meaningful ways.
Through mutual support and shared roles, this fellowship program seeks to start an endless cycle of constructive change. Numerous Atlas Corps fellows have made notable contributions to preventing human rights abuses, such as Vithika Yadav, a human rights activist, Eyitayo Ogunmola, a social entrepreneur, and Olumaiide Idowu, renowned as the Climate Man.
Atlas Corps is a chance not to be missed out, especially in light of the vast professional potential offered in the US.
Also Read: WHO Internship Programme 2023 | Fully Funded
Details of the Atlas Corps Fellowship and Leadership Program 2024
| | |
| --- | --- |
| Location | USA |
| Organization | Atlas Corps |
| Duration | 14 Months |
| Type | Fully Funded |
| Eligibility | All Nationalities |
| Application Deadline | July 30, 2023 |
Benefits Fully Funded Fellowship Programs in the United States for 2023-2024
Airfare
local travel
Medical Insurance
Monthly salary ranges from $1600 to $2700.
Assistance in obtaining a J1 visa
Accommodation
Training and lectures
Get some international experience.
Engagement in meaningful pursuits in a supportive setting.
Skill development
Networking with over 1700 leaders from all across the world.
Fellowship Types
12-month In-Person Fellowship in the U.S
The Atlas Corps Remote Fellowship is a 12-month program that develops great social change leaders in their native countries.
Through full-time remote service with Host Organizations, Fellows develop their leadership skills and gain valuable insights through Atlas Corps' professional development programs. They also have opportunities to connect and collaborate with fellow Fellows, creating a robust network of change-makers.
In addition to engaging in full-time remote service at their respective Host Organizations, Fellows will have the opportunity to participate in up to 200 hours of virtual training throughout the entire Fellowship. This training will be conducted through a combination of activities from our Global Leadership Lab and Virtual Leadership Institute.
Atlas Corps will offer financial support for the technology needed to fulfil Host Organization requirements remotely from Fellows' home countries.
Also Read: UAE Internship Opportunities 2023 at Al Qasimi Foundation
Blended (Remote and US-based) 12-18 Months Fellowship
The Blended Fellowship program consists of around one month of virtual service conducted by Fellows from their home countries, followed by approximately eleven months of service in the United States. The program also includes in-person and virtual training through our Global Leadership Lab.
Virtual Leadership Institute
The Atlas Corps Virtual Leadership Institute is a virtual learning community designed for international social change leaders, drawing upon the established Atlas Corps Global Leadership Lab.
Participants, referred to as Atlas Corps Scholars, have the opportunity to enhance their professional skills, expand their global networks, and prepare themselves for leadership roles within their respective communities.
Note: Currently, applications for the Virtual Leadership Institute are not being accepted.
Areas of Fellowship
Communications & Marketing
Journalism & Media
Event Planning
Consulting
Partnership-Building & Business Development
Program Management & Project Management
Finance & Accounting
Fundraising & Proposal Writing
Technology & Engineering
Monitoring & Evaluation & Data Analysis
Operations & Human Resources
Curriculum Writing & Training Development
Research & Report Writing
Volunteer Recruitment & Volunteer Management
Policy & Advocacy
Also Read: Fully Funded KAUST VSRP Internship 2023 in Saudi Arabia
Atlas Corps Fellowship Eligibility
Open to international candidates of any nationality.
Minimum of two years of full-time professional experience is required.
A bachelor's degree or equivalent is mandatory.
Proficiency in both spoken and written English.
Age requirement: 23 to 35 years.
Commitment to return to home country for service.
Professional experience in areas such as communication and marketing, monitoring and evaluation, data analysis, operations, and human resources, and program and project management is preferred.
Fellows are required to participate in the Atlas Corps Global Leadership Lab.
COVID-19 vaccination is a prerequisite.
Willingness to live within the wage provided, including food, lodging, and local transportation.
Non-citizenship in the United States.
Essential Requirements
Online Application Form
Academic Certificate
Letters of Recommendation
Procedure to Apply
Click on the provided application link.
If you do not have an account, you will be guided to create one. Provide your email address, choose a strong password, enter your first and last name, select your country code, and provide your phone number. Then click on "Register."
Once your account is activated and you have logged in, you will find the registration form for the program.
Last Date to apply
The application deadline for the International Fellowship Program 2024 for International Students in the USA is July 30, 2023.