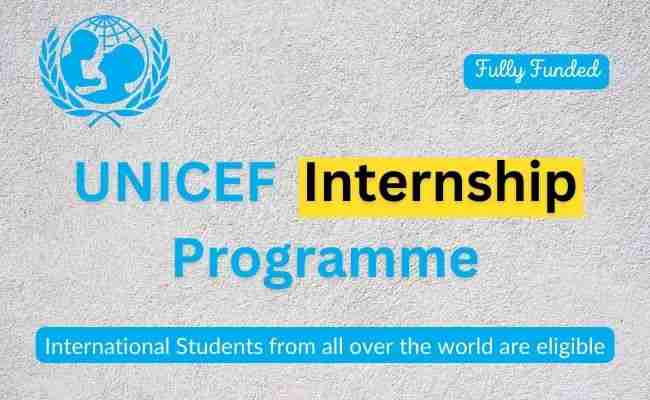 Are you a recent graduate or a postgraduate student seeking a remarkable opportunity? Look no further, as you have arrived at the right place. An incredible opportunity awaits all interested candidates.
Applications are now open for the UNICEF Internship 2024. International students from all around the globe are welcome to apply for this internship opportunity.
About UNICEF
UNICEF, widely recognized as the United Nations International Children's Emergency Fund, is a renowned international organization that is actively seeking fresh and talented individuals for internship positions.
Also Read: Tesla Internship Program 2023 | Paid Internship
UNICEF operates in some of the most challenging regions worldwide, striving to reach the most marginalized children and adolescents and safeguard the rights of every child, regardless of their location.
With a presence in over 190 countries and territories, our unwavering commitment is to do whatever it takes to ensure children not only survive but also thrive and realize their full potential, starting from the early stages of childhood and extending throughout adolescence.
Role of UNICEF
UNICEF is the world's largest provider of vaccines.
It prioritizes child health and nutrition.
It works towards providing safe water and sanitation.
UNICEF's focus is on quality education and skill building.
They are committed to HIV prevention and treatment for mothers and babies.
They strive to protect children and adolescents from violence and exploitation.
The mission of UNICEF is to bring about positive and transformative change in the lives of children and youth worldwide.
Also Read: Fully Funded Atlas Corps Fellowship and Leadership Program USA
What is UNICEF Internship Programme?
The UNICEF internship offers a unique and invaluable chance to actively engage and contribute to pressing global issues. It serves as an excellent gateway for students aspiring to enter the field of international development by providing them with practical, hands-on experience.
The UNICEF Internship opens doors for individuals to work directly in one of our country offices. This program is specifically designed to offer young professionals a comprehensive understanding of the United Nations operations and enables them to actively engage in activities relevant to their areas of expertise.
It is worth noting that these internships come with a comprehensive financial package provided by the organization. Joining this program will allow interns to gain firsthand experience with a world-class organization. The UNICEF paid internship program enables students and graduates to make a meaningful contribution to the organization's mission.
What will you get through UNICEF Internship? 
UNICEF serves as a valuable platform for freshers to earn and kick-start their careers in a supportive and professional environment.
Interns align themselves with the core values of UNICEF, which include care, respect, integrity, trust, and accountability.
UNICEF provides opportunities for interns to confront real-world challenges.
UNICEF is a globally renowned organization and a leading force in social welfare initiatives worldwide.
Its key contributions include improving children's health, maternal health, and education, and providing emergency relief among many other vital services.
The UNICEF internship program offers an exceptional opportunity for recent graduates, including those with Bachelor's, Master's, and Ph.D. degrees.
Interns have the chance to gain practical experience and apply their knowledge in real-world situations.
The program enables interns to enhance their skills, develop their professional networks, and gain exposure to the work of a renowned international organization.
Also Read: Fully Funded Hurford Youth Fellowship Program USA
Internship Details
| | |
| --- | --- |
| Internship Duration | 6-26 weeks |
| Organization | UNICEF |
| Financial Status | Fully funded |
| Level/Field of Study | Ph.D., Undergraduate, Graduate |
Financial Benefits
Stipend: UNICEF offers a monthly stipend to interns. Additionally, a one-time lump sum may be granted, when funding is available.
Living Expenses: All living expenses will be covered.
Visa and Travel Support: A lump sum will be provided to assist with visa and travel expenses.
Eligibility Criteria
Minimum age requirement of 18 years.
You must be currently enrolled in an undergraduate, graduate, Ph.D., or you must have graduated within the last two years.
Proficiency in at least one of UNICEF's working languages: English, French, or Spanish. Fluency in the working language of the specific office you are applying to may be necessary.
No immediate relatives (e.g., mother, father, sister, brother) employed by UNICEF or any other relatives in your reporting line of authority.
Demonstrated excellence in academic performance and a high level of motivation.
Any relevant professional experience related to the specific role you are applying for will be given additional consideration.
Also Read: Fully Funded KAUST VSRP Internship 2023 in Saudi Arabia
To Apply
Internship opportunities are available year-round, and you can access the current openings on our vacancies page.
To apply for a specific vacancy, simply click on the "Apply Now" button and follow the provided instructions for the application process.
Here are some tips to maximize your chances of success: Thoroughly review the requirements for each internship opportunity and tailor your profile to showcase your suitability for the role.
Create a compelling profile that highlights your relevant skills, experiences, and qualifications to increase your chances of landing your dream internship.
Make use of application and assessment tips to enhance your application and stand out from other candidates.
Note: Only shortlisted candidates will be contacted due to the high volume of applications received.
Application Deadline
Please visit the official UNICEF website for detailed information regarding the specific deadlines for each internship opportunity.